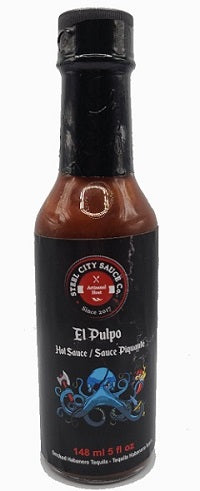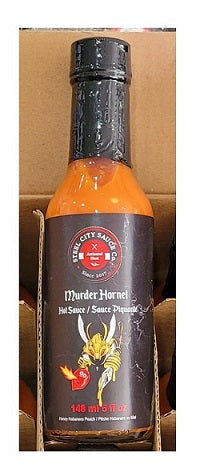 Steel City Hot Sauce
$10.00
Steel City Hot Sauce uses only the highest quality ingredients and strive to support our local farmers!

"All of our products are made with only the highest quality of ingredients sourced as locally as possible. Each year we have more and more of our own crops planted, this way we can maintain the quality from seed to bottle, as well as providing the market with truly unique product that cant be compared with our competitors."
****************************

The Banshee (White Ghost Pepper)
Ingredients: White Ghost Pepper, Vinegar, Apple Butter, Onion, Carrot, Olive Oil, Vegetable Oil, Salt, Garlic
Badger Bite (Red Habanero)
Ingredients: Red Habanero, Peaches, Honey, Onions, Ginger, Orange Zest, Cumin, Vinegar, Salt, Vegetable Oil
El Pulpo (Smoked Habanaro Tequila)
Ingredients: Smoked Habaneros, Vinegar, Onion, Green Peppers, Agave Nectar, Orange Juice, Garlic, Tequila, Vegetable Oil
Jade Jaguar (Jalapeno Lime)
Ingredients: Jalapeño, Vinegar, Onion, Garlic, Olive Oil, Vegetable Oil, Lime Juice, Salt, Cilantro
Meco Viper (Chipotle Maple Sauce)
Ingredients: Vinegar, Tomato, Vegetable Oil, Maple Syrup, Chipotle, Onion, Guajillo Peppers, Arbol Peppers, Salt, Garlic, Oregano
Miso Shogun (Scotch Bonnet Blonde Miso Sauce)
An Unami Bomb, made with scotch bonnet peppers, blonde miso, ginger, garlic, honey, gluten free soy sauce, sesame oil, rice wine vinegar, onions and carrots. A fantastic addition to seafood, chicken and Asian cuisine.
Murder Hornet is an amazing habanero based hot sauce that just loaded with honey and peaches. This sauce is a great all round use sauce that has a wide variety of uses.

Ingredients: Red Habanero, Peaches, Honey, Onions, Ginger, Orange Zest, Cumin, Vinegar, Salt and Vegetable oil
Viking Tears (Habanero Heat)
Ingredients: Habanero, Vinegar, Apple Butter, Onion, Carrot, Olive Oil, Vegetable Oil, Salt, Garlic
Wolf's Bane (Louisiana Style Siracha)
Ingredients: Red Jalapeno, Vinegar, Brown Sugar, Garlic, Distilled Water, Salt
The Reaper (Carolina Reaper Sauce)
Ingredients: Carolina Reaper, Vinegar, Apple Butter, Onions, Carrots, Olive Oil, Vegetable Oil, Salt, Garlic