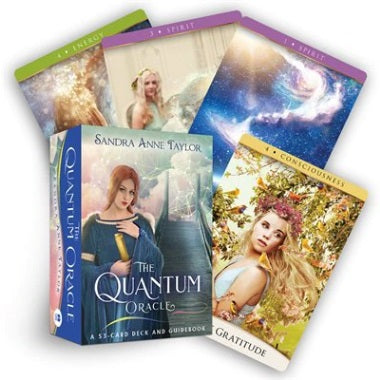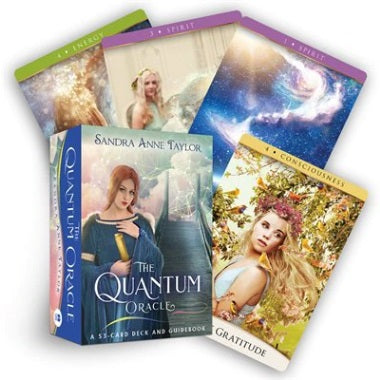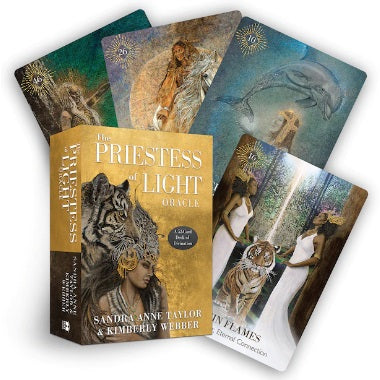 Sandra Anne Taylor
$33.99
The Quantum Oracle
(Sandra Anne Taylor)
53-Card Deck and Guidebook
From a best-selling author and oracle expert, a deck full of powerful tools for revealing the potentials in your future and forging the dynamic destiny you desire.
What energy are you creating right now, in the present moment, that's laying the groundwork for your future? What can you do to consciously control and direct it toward the destiny of your choice? The Quantum Oracle Deck from beloved teacher and author Sandra Anne Taylor holds the answers you seek.
This beautifully illustrated 53-card deck not only reveals your individual energy, it also shows the inextricable connection to Universal patterns and responses, predicting future potentials with incredible accuracy. The six suits in the deck represent personal and Universal influences and situations in life; the seventh suit represents the five major cycles in nature and in the human experience. The cards are both predictive and instructive, perfect for users who want to know the future and learn how to forge the dynamic destiny they desire.
The Priestess of Light Oracle: A 53-Card Deck of Divination
(Sandra Anne Taylor, Illustrator Kimberly Webber)
Two renowned artists and teachers combine forces to offer a unique oracle, with channeled art by Kimberly Webber spectacularly depicting spirit animals, divine feminine archetypes, and sacred geometry. Best-selling author Sandra Anne Taylor connects with the divine energy of Kimberly''s paintings to create an oracle guide that taps into the wisdom of the natural and energetic worlds.
This oracle is a collaboration between two incredible healers and teachers. Renowned artist Kimberly Webber channels divine energy to create stunning depictions of spirit animals, divine feminine archetypes, and sacred geometry. The unique lighting effect comes from the rare minerals, crystals, and precious metals layered into her original oil paintings, described as "modern magical realism rooted in antiquity." Acclaimed oracle creator Sandra Anne Taylor connected with Spirit and the energy within the art to create this 53-card deck that can be used for predictive purposes as well as a tool for significant change in your inner realm, the outer experiences you attract, and the world at large.