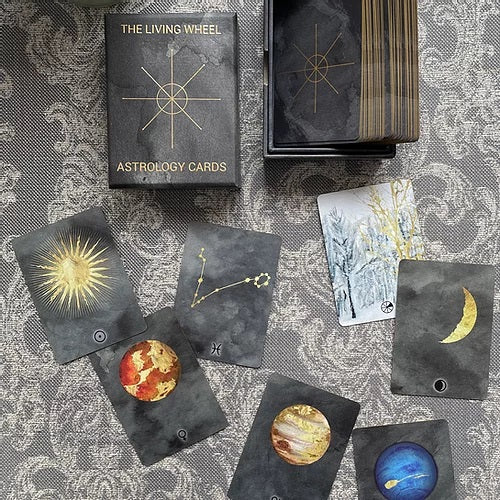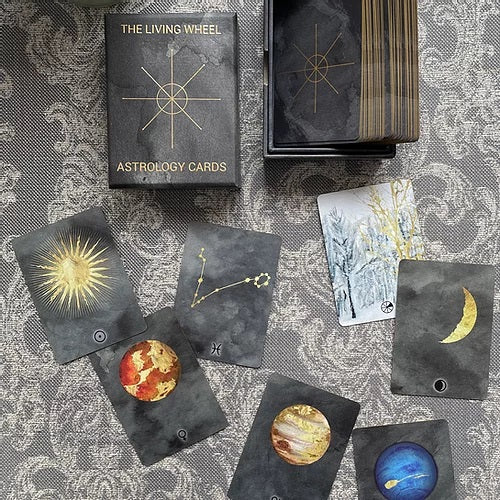 The Living Wheel Astrology Cards
$54.00
The Living Wheel Astrology Cards
(Patrick Fogarty)
55 Cards (2.5 inches x 3.5 inches) and Keyword Booklet
The artwork for each card was originally created with liquid graphite and 24k gold foil, by artist Patrick J. Fogarty.

Astrology is an ancient practice that originates more than two thousand years ago. A tool for self-discovery, astrology can be a guide for navigating life, imbuing it with intention, meaning, and magic. The Living Wheel Astrology Cards are designed to support your journey with astrology. They are versatile tool that supports living intentionally and in alignment with the cosmos, and nature, in a variety of ways.
Ideal for BOTH beginners and experienced it can be used as an oracle, a way to visually represent the astrological (depicting birth charts, moon phases, or other astrological occurrences), or as part of an altar / sacred space adornment.
"Astrology is a language. If you understand this language, the sky speaks to you."
~ Rudhyar ~
______________________________
From the Author/Artist:
ABOUT THE DECK ARTWORK & DESIGN
Typically when creating a deck, an important objective is creating artwork and/or symbolism to inform the meaning of the card. An alternative choice is covering the card in text and/or vector art to accomplish the same means. However, no one keyword or visual depiction can express or teach the totality of a system like astrology. I  believe it is very important that as one's study, experience, and knowledge of astrology continue to grow, that this deck do the same. Therefore I depicted the cosmos and seasons as they actually appear in the awe inspiring heavens above. Each are ready to meet you right where you are in your journey. May they stir within you a desire to explore and learn.  Each card was hand-painted using liquid graphite and 24k gold. Recognizing the glyphs of astrology is foundational to working with astrology, thus it is the only text element on the cards.
I hope when you lay the cards down, looking at the artwork provides the sensation of looking up to the cosmos and recalling the mystery and magic imbued both in it and you.
A very exciting journey is unfolding - I'm excited for you!
AS ABOVE | SO BELOW
AS WITHIN | SO WITHOUT
AS THE UNIVERSE | SO THE SOUL