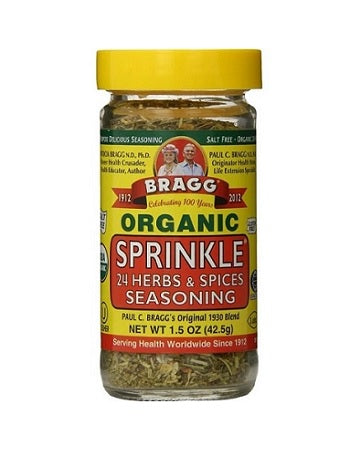 Seasonings
$7.99
Nutritional Yeast Seasoning
Add a tasty, nutritional boost to dips, spreads, salads, vegetables, potatoes, and pasta. An ideal topping for your dairy-free "cheesy" popcorn and other favorite snacks. Its great "cheese-like" flavor makes it a delicious cholesterol-free, low-sodium, addition to most recipes and foods.
Ingredients: Inactive Dry Yeast, Niacin (B3), Prydoxine HCI (B6), Riboflavin (B2), Thiamin HCI (B1), Folic acid, and Vitamin B12
Organic Sprinkle Seasoning
A blend of 24 all-natural herbs and spices specially crafted to enhance the flavour of your favourite recipes, meals and snacks. Quality nutrition from organic, pesticide-free, eco-friendly ingredients and ideal for spicing up reduced sodium diets.

Ingredients: Rosemary, Onion, Garlic, Thyme, Red Bell Pepper, Carrot, Tomato, Black Pepper, Basil, Extra Virgin Olive Oil, Parsley, Tarragon, Lemon Peel, Bragg Organic Apple Cider Vinegar, Celery Seed, Dill Seed, Oregano, Savory, Sage, Ginger, Coriander, Bay Leaf, Turmeric.