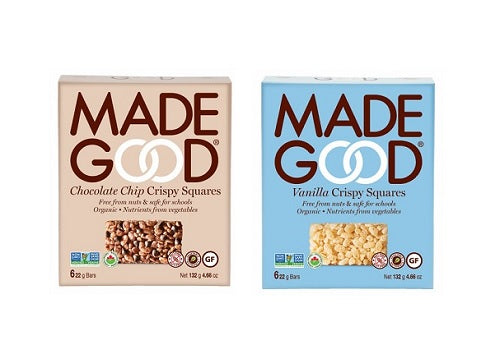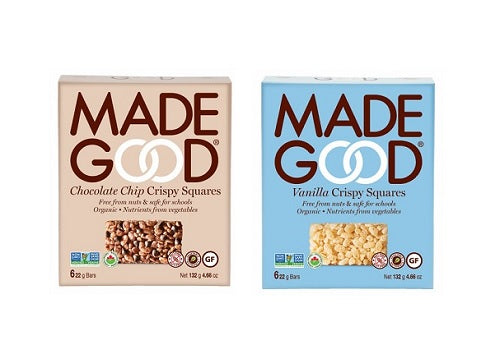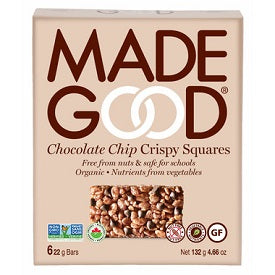 Organic Crispy Squares
$4.49
A fave made better.
We've taken a childhood favorite and worked our MadeGood® magic. But don't worry, they are as yummy as ever. Now with nutrients from vegetable extracts, amazing new flavors like Vanilla, Strawberry and Chocolate, they're gluten-free too. Everything you love about Crispy Squares and more.
* Canada Organic
* Non-GMO Project Verified
* Certified Gluten Free
* Ethically sourced Ingredients
* Made with whole grain
* Certified Vegan
* Kosher
__________________________
Chocolate
You've dreamt it. We did it! We added vegan dark chocolate chips to crispy rice squares. The result? Absolutely delicious. And now organic, vegan and gluten-free. Dreams do come true!
Ingredients: Brown rice crisps*, Sugars* (invert cane syrup*, brown rice syrup*), Chocolate chips* (cane sugar*, unsweetened chocolate*, cocoa butter*), Vegetable glycerin*, Water, Cocoa powder*, Palm fruit oil*†, Inulin*, Pea protein isolate*, Salt, Natural flavour*, Tapioca starch*, Vegetable extracts (spinach, broccoli, carrots, tomatoes, beets, shiitake mushrooms), Xanthan gum. *, *Sustainable
Vanilla
The classics do get better with time. It's true for our Crispy Vanilla Squares. Still
Ingredients: Brown rice crisps*, Sugars* (invert cane syrup*, brown rice syrup*), Vegetable glycerin*, Water, Palm fruit oil*†, Inulin*, Pea protein isolate*, Salt, Natural flavour*, Tapioca starch*, Vegetable extracts (spinach, broccoli, carrots, tomatoes, beets, shiitake mushrooms), Xanthan gum, Vanilla extract*. *, Sustainable*