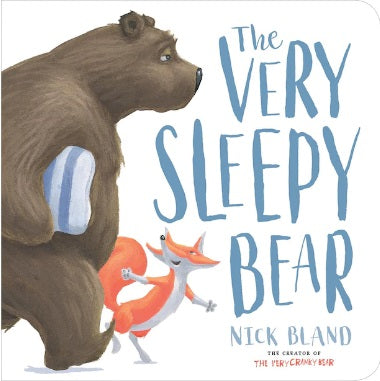 Nick Bland
$11.89
The Fabulous Friend Machine (ON SALE)

Popcorn the chicken has found a Fabulous Friend Machine — and now she's going to have more friends than ever! What could go wrong?
When Popcorn, the friendliest chicken at Fiddlesticks Farm, finds a forgotten smartphone in the barn, she sets about making some brand new friends. Soon she is so busy sending messages to them that she begins to forget her old friends. When a meet-up with her new friends is about to end in disaster, the quick-thinking animals of Fiddlesticks Farm save the day . . . and one relieved chicken learns a lesson.
*****************************
The Magnificent Tree
(Nick Bland, Illustrator Stephen Michael King)

This inventive tale is perfect for "makers" young and old! Bonny and Pop are bursting with ideas. Pop's ideas are big and brave and Bonny's ideas are simple and clever. When they decide to make something that will draw the birds to them, they come up with ideas for a tree. A brave tree, a clever tree . . . a magnificent tree!
*****************************
Twinkle


Penny Pasketti is determined to help her new friend, Little Star, make it back home to the sky. Penny Pasketti stared into space and pretended the stars were her friends. She imagined that every twinkle was a smile or a secret or some such wonderful thing.
Suddenly, a shooting star lands in her garden, and in a twinkle the night is filled with friendship and fun. Eventually it is time for Little Star to go home - and for Penny to go to bed - but how do you make a star fall up? One resourceful little girl comes up with a plan . . . and we find she''s not the only one with a little smile and a wonderful great big secret.
Nick Bland''s luminous artwork brings this charming story to life. With an ending that all is right in the world, it''s a perfect bedtime story to get little ones and stars alike tucked in for the night.
*****************************
The Very Sleepy Bear
 "A great big bear like you," said Fox, "so big and strong and brave, a creature so magnificent . . . deserves a bigger cave."
A very sneaky Fox and a very sleepy Bear set off to explore other places for Bear to call home. The train tunnel is too loud, even if the double doors are nice. The hollow tree''s high ceilings are great, but the bats are not. The oceanfront option has great views - great, but damp.
Could it be that sleepy Bear''s own cozy cave is the perfect home after all?