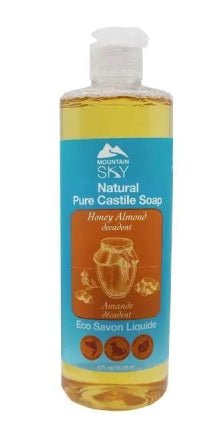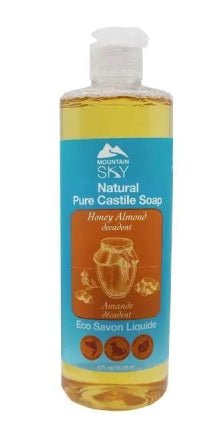 Pure Liquid Castille Soap (475ml)
$14.00
Mountain Sky's natural concentrated castile liquid soap is produced with simple natural oils, essential oils and an alkali. Mountain Sky soaps retain its natural glycerin to create a milder natural soap that is biodegradable and safe to use for humans and our furry friends.

* Concentrated and can be diluted for a variety of uses
* Good for you and our environment.
* Free of petrochemicals, detergents, SLS, phthalates
* Free of corn sugars, propylene glycols
* No thickeners added
____________________________
Honey Almond 
Moisturizing almond oil is blended with sweet honey to create a divinely emollient authentic castile soap. Honey almond soap is a sweet marzipan jubilee, sure to entice secret almond lovers.
Lavender Heaven 
Lavender Heaven Soap is the scent of purity and peace as it calms and heals your spirit. Soothing meadowfoam oil rebalances and restores the skin to its natural beauty in this castile liquid soap.
Shiva's Nirvana 
Wash with Shiva's Nirvana castile soap and suds your way off the wheel of reincarnation.  Bliss is guaranteed with this eclectic mix of refreshing forest aromas and spicy Indian scents.