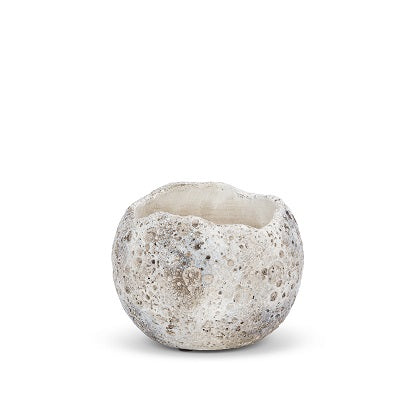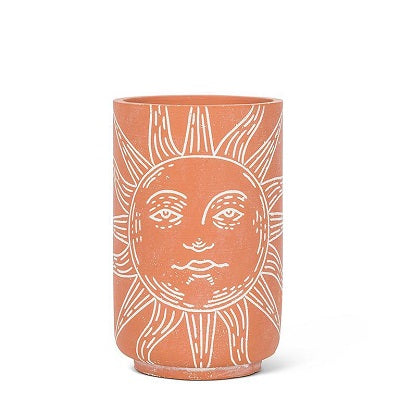 Sun and Moon
$35.00
Small Moon in Hands Planter

Never mind the man in the moon! Someone's got their hands on the moon with this fun Small Moon in Hands Planter. Crafted out of cement, this moon-shaped planter is full of rich texture and details, augmented by two beautifully sculpted life-like hands clutching it. A distinctive complement to any flower or bloom.
Small: 5" (opening 4.5")
(No drainage Hole)

__________________________
Moonscape Planter
Take a trip to outer space without ever having to leave your home! Crafted from cement, this cool looking planter resembles the moon's uniquely textured surface — a stellar addition to your decor and perfect for housing all of your out-of-this-world plants!
Small: 5" (opening 4")
Medium: 7" (opening 6")
(No drainage Hole)
__________________________
Sun Face Planter
Let your favourite plant shine with the help of this striking Sun Face Planter. Crafted out of cement, this circular terracotta planter is accented with a classic etched-style line-drawing of the sun in all its smiling glory,  A wonderful complement to any type of flower
Small: 4.25" (opening 3.5")
Medium: 5.5" (opening 4.5")
Large: 6.75" (opening 6")
Vase/Cooler: 8" (opening 4")
(No drainage Hole)