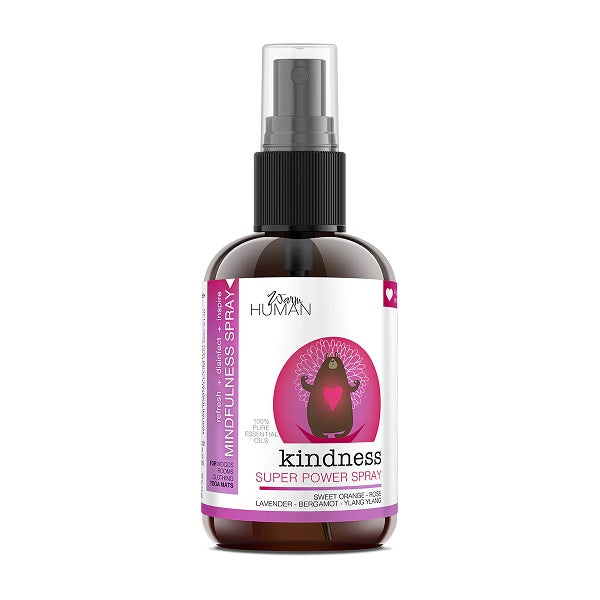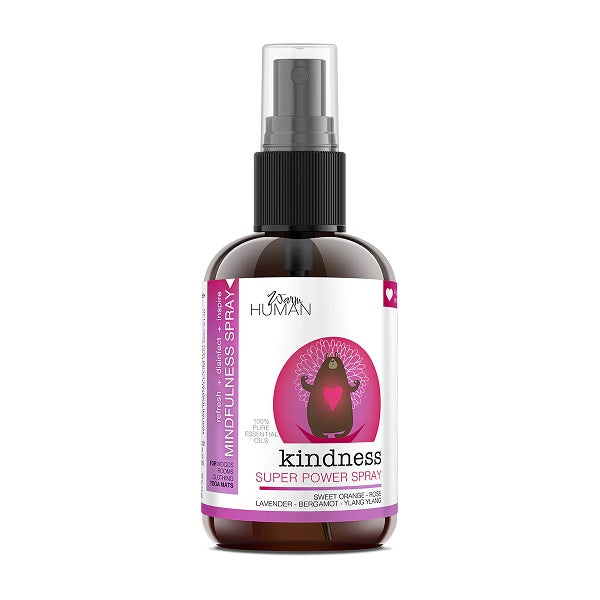 Mindfulness Spray for Kids
$15.99
Refresh + Clean + Inspire

Warm Humans' mindfulness sprays are lightly scented with inspiring blends of pure therapeutic-grade essential oils. They are ideal for refreshing moods, rooms, clothing, bedding and yoga mats.

Directions: Shake well and spray onto damp cloth to wipe down your yoga mat and accessories, fitness equipment, toys or hard surfaces. May also be sprayed into the air, onto bedding or clothing to refresh and inspire. Suitable for daily or deep cleaning.
* 4oz Spray Bottle
* Vegan and Cruelty-free
* Paraben Free
* Non-GMO
* Made in USA
____________________________

Kindness Super Power Spray
Sweet Orange, Ylang Ylang, Rose Lavender, Frankincense

KINDNESS "I think kind thoughts. I say kind words. I do kind things.
I am kind to you and kind to myself."
It is cool to be kind. Kindness is a strength and a superpower.
EVERY being deserves to be treated with kindness and respect. 

Ingredients: Filtered Water, Hamamelis Virginiana (Witch Hazel) Alcohol, Essential Oil Blend (Citrus Sinensis, Cananga Odorata, Lavendula Angustifolia, Boswellia Carterii, Santalum Album, Rosa Damascene), Gluconolactone, Sodium Benzoate
Peaceful Super Power Spray
Lavender, Eucalyptus, Cedarwood, Sweet Orange

PEACEFUL "With every breath, I bring peace into my body,
my heart, and my mind. I become calm and happy."
Peaceful lives inside you. Anytime you want to find it, take a deep breath. When you are calm and peaceful, yo100u will feel happy, relaxed and able to focus.
Ingredients: Filtered Water, Witch Hazel, Alcohol, Essential Oil Blend (Citrus Sinensis, Lavendula Angustifolia, Eucalyptus Radiata, Juniperus Virginiana), Gluconolactone, Sodium Benzoate
Monster Go-Away Spray
Warm Human Monster Go-Away Spray is a super-duper extra-powerful essential oil spray for getting rid of monsters, boogiemen, and naughty minions. Lightly scented with lavender, lime, and sweet orange essential oils.
* It works on ALL monsters
* Super-duper extra-powerful
* Lasts ALL night
* Keeps nightmares away
* Encourages sweet dreams
Directions: Shake well then spray under your bed, or anywhere in your room that you want monsters to leave, and say, " I am safe, I am loved, and I am protected"
Ingredients: Water, Hamamelis Virginiana (Witch Hazel), Alcohol, Essential oil blend of (Lavendula Angustifolia (Lavender), Citrus Sinesis (Sweet Orange), Citrus Auranifolia (Lime)), Perfume (less than 0.5%), gluconolactone, Sodium Benzoate