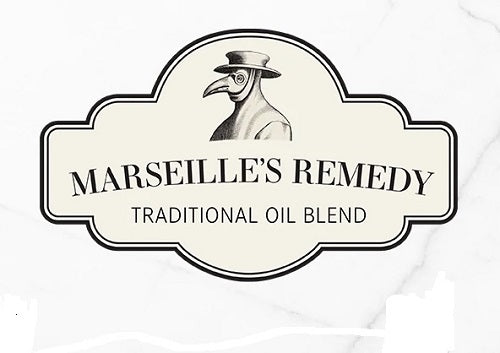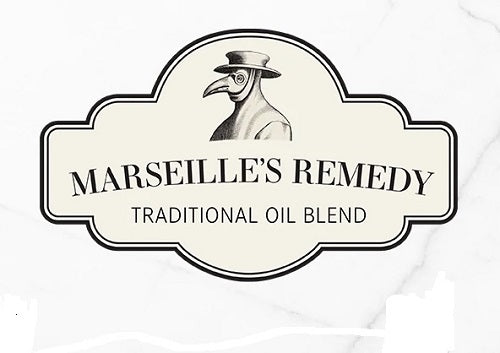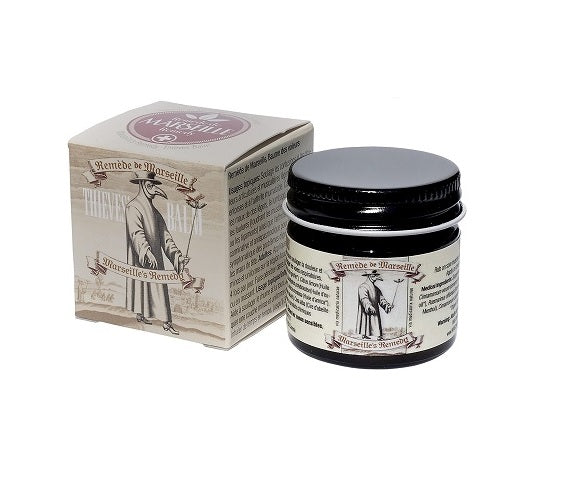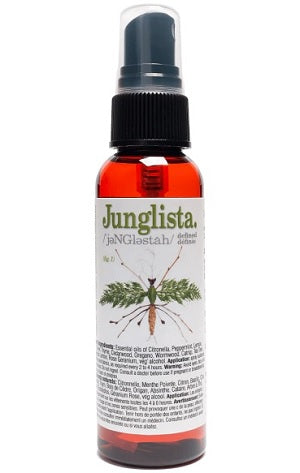 Marseille's Remedy
$24.95
Junglista Natural Insect Deterrent

Junglista's Natural Insect Deterrent is special formulated from natural ingredients for the outdoor enthusiasts who are simply exhausted from non-stop flailing.  All natural ingredients and an amino acid analog are used to deter a multitude of pests.

* Naturally derived ingredients and pesticide free non-toxic
* Non Toxic
* 100% biodegradable so it does not pollute the environment
* Deters Mosquito, Ticks, Fleas, Lice, and Bedbugs
Ingredients: Essential oils of Citronella, Peppermint, Lemon, Basil, Clove, Thyme, Cedarwood, Oregano, Wormwood, Catnip, Tea Tree, Eucalyptus Lemon, Rose Geranium, Veg. Alcohol.
* Warning: Avoid eyes, face, and sensitive areas. Do not ingest. Consult a doctor before use if pregnant or breastfeeding. Keep out of reach of children. CONCENTRATED formula, use responsibly
_________________________________
Traditional Thieves' Balm
Rub on sore muscles and joints to relieve pain and inflammation. Apply on chest to clear airways and breath easy.
* Instantly Clears Congested Airways
* Relief for Bug Bites, Bruises, Sore Joints, and Muscles
* Relief of Digestive Discomfort
* Use as Hand Sanitizer
* Topical Anti-fungal
* All Natural and Gentle on Skin
Ingredients: Syzgium aromaticum (organic Clove essential oil, steam distilled, Sri Lanka), Citrus limon (organic lemon essential oil, cold pressed, Italy), Cinnamoomum verum (organic Cinnamon bark essential oil, CO2-extracted, Sri Lanka), Eucalyptus polybractea (organic Blue Mallee Eucalyptus essential Oil, steam distilled, Australia), Rosimarinus officinalis (organic Rosemary essential oil, steam distilled, France), natural menthol, natural camphor Non-medicinal ingredients - beeswax, grape seed oil
_________________________________


Traditional Marseille's Remedy Oil

Our Marseille's Remedy Traditional Oil uses a centuries-old blend of essential oils that can be used diluted or as a base in many DIY recipes for household cleaners and wellness products. If you need a topical balm, consider Marseille's Remedy Balm. Our all-natural balm combines Marseille's Remedy Oil in an all-natural beeswax base which makes it ideal for topical application.
Medical Ingredients: Syzygium aromaticum (Clove bud oil* – India), Citrus limon (Lemon oil* – Italli), Cinnamomum verum (True Cinnamon bark oil* – Sri Lanka), Eucalyptus polybractea (Blue Mallee Eucalyptus oil* – Australia), Rosmarinus officinalis (Rosemary oil* – Spain).
*Organic Content, Alcohol/Chemical-Free
APPLICATION:
Perform a skin test before any topical application. To do this, dilute Marseille's Traditional Oil with either soapy water or carrier oil that you know you're not allergic to. To use as a topical, dilute with a carrier oil in amounts based on personal preference. Start by mixing one drop of Marseille's Traditional Oil with ten drops of carrier oil.
* Diffuse and breathe vapors to help fight sickness and clear air of pathogens.
* Using a cotton swab, dab a very small amount on acne and boils to relieve inflammation and fight infection.
* Using a cotton swab, apply to tooth decay to numb pain and remediate the infection.
* Mix with soapy water to clean and remediate mold. Mix with a carrier oil and apply it to wood surfaces in the household.
* Tried and tested on ships as an effective alternative to fight rot and eliminate mold.
CAUTIONS:
* A powerful blend of pure essential oils, so be sure to use it responsibly. 
* Consult a doctor before use if breastfeeding or pregnant.
* Avoid contact with eyes, membranes, or other sensitive areas of the body.
* Keep out of reach of children.
* Perform a skin test before topical application.
* If irritation occurs, wash with soapy water and dilute before further application. If irritation persists: discontinue use.