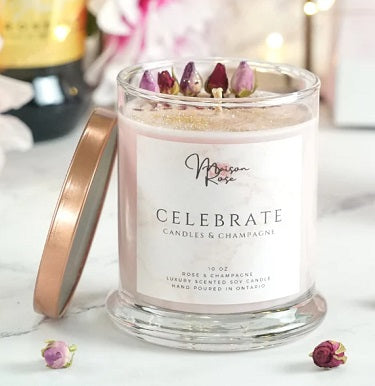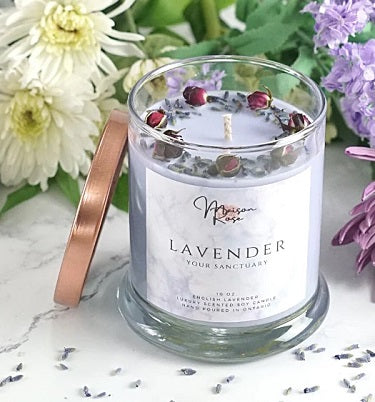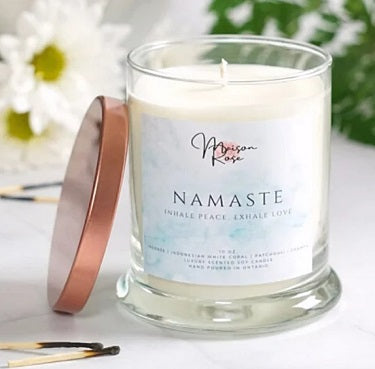 Maison Collection
$32.00
Beautiful soy candles hand-poured in stunning apothecary jars,
perfect to enjoy in your home.
Celebrate
(Rose, Champagne: decorated with Real Dried Roses)
This special fragrance was created to celebrate all of the excitement in your life. Once you light up this beauty, it will begin to fill your room with a wonderful, rosé champagne aroma.
Lavender
(English Lavender: decorated with Real Dried Roses, Real Dried Lavender)
The natural properties of lavender induce relaxation and with the beautiful floral scent, it's sure to make your home smell amazing. 
Namaste
(Incense, Indonesian White Copal, Patchouli, Champa)
Whenever you're feeling out of balance, this is the candle to turn to! An exclusive blend, this Namaste candle releases a pleasant aroma which could help you relax and centre yourself. Ideal for meditation, yoga or simply burn it for a few hours in your home to help create a lovely environment.
Sunshine
(Sage, Citrus: decorated with Real Dried Lemon, Real Dried Chrysanthemum, Real Dried Helichrysum)
This candle brings bright, soothing and welcoming aromas to your home. This candle was created to spread good, warm vibes.
Tranquility
(Frankincense, Sage, Lemongrass)
This pleasant blend of frankincense, sage and lemongrass essential oils helps reduce stress reactions and negative emotions; assisting in relaxing your mind, body and soul. The herbal blend contains essential oils that have been long valued in traditional medicine. 
_____________________________
Maison Rose's Premium Scented Soy Candles are proudly made in Canada. Free of paraben and phthalate, the candles are packaged in a reusable luxurious apothecary jar with a rose gold lid.
* 100% Vegan, cruelty-free and eco-friendly
* Hand-poured with sustainable soy wax
* Burn Time: 50+hr burn time (10oz)
* Woman owned, Canadian Business that gives back to charity
Ingredients: 100% pure, natural soy wax (sourced in the US), paraben and phthalate-free essential and fragrance oils (sourced in Canada and the US), natural wax coated cotton wick.
Tips: Burn for up to 3-4 hours at a time. Before lighting, trim wick (0.6cm).