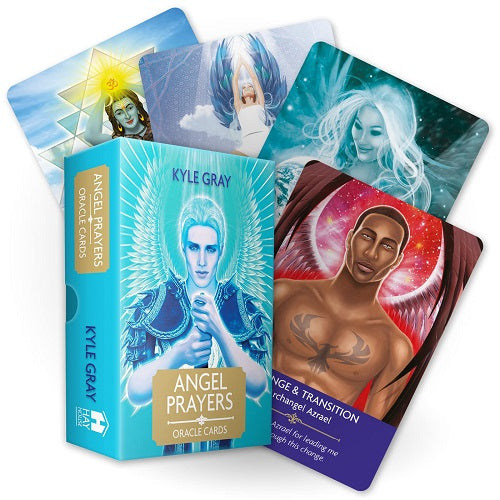 Kyle Gray
$28.99
Angels and Ancestors Oracle Cards
(Kyle Gray, Illustrator Lily Moses)
55-Card Deck and Guidebook
A one-of-a-kind oracle card deck that combines Angelic guidance with Aboriginal, Native American, Celtic, and Earth based spiritualities.
We are surrounded by countless guides who want to share their knowledge with us to bring healing and change. Among them are the Angels and Ancestors.
In whichever culture or religion they appear, Angels have always had one mission: to love, help and guide humans. On the earthly plane, Ancestors are the wise ones, healers and warriors who have offered to share their knowledge and magic with us. In this empowering 55-card oracle deck, Celtic, Native American, Aboriginal and Earth-based spiritualities bridge the gap between this world and the next. The Angels and Ancestors know what you need to know, and by using the accompanying guidebook you'll learn how to unlock their secrets and messages, and live a life touched by divine, magical guidance.
 ____________________________
The Angel Guide Oracle
(Kyle Gray, Illustrator Jennifer Hawkyard)
44-Card Deck and Guidebook
From bestselling angel author, this oracle deck reminds spiritual seekers that loving, divine guidance is always available to anyone.
This powerful oracle invites you to connect with your very own guardian angels, and shares 44 powerful messages of divine inspiration, love and positive action.
Did you know that your angels are constantly ready to share guidance with you? Yet so often we're distracted by daily life and don'' recognize these divine signs when they come our way.
The Angel Guide Oracle acts as a bridge between heaven and Earth, bringing together 44 images of guardian angels with insightful, supportive, and healing keyword messages to help you activate your intuition, strengthen your communication and open your heart to their messages of love. The accompanying guidebook explains how to attune to the cards, conduct angel readings for yourself as well as for others, and how to work with card spreads.
When your heart seeks transformation, when your soul seeks truth, call upon your angel's wisdom and their infinite compassion will lead you on your path.
 ____________________________
Angel Prayers Oracle Cards
(Kyle Gray)
Kyle Gray's Angel Prayers Oracle Cards deck is a powerful spiritual tool that allows you to tap into the profound wisdom and healing support of the angels in a way that will feel real and positive. Using bright, modern imagery together with traditional symbolism, this exciting deck is full of loving messages from the angels, archangels and even the Divine Mother and Divine Father.
Each card also offers you a powerful affirmative prayer that will help you to resolve specific situations in your life for the highest good. Your angels have been with you throughout your life and they understand the challenging situations of your past. They will help you release all that you no longer need so that you can find the peace and harmony you deserve in this present moment.
You and your guides will eventually create your own language, and your deck will become your friend and your very own spiritual support system.
 ____________________________
Gateway of Light Activation Oracle
(Kyle Gray, Illustrator Jennifer Hawkyard)
44-Card Deck and Guidebook

A unique activation oracle depicting 44 ethereal gateways and portals to help users connect with their energy center.
Step through 44 illuminating gateways to realign your energy space and reach your own infinite potential.
This oracle is a stargate portal between this realm and the next, connecting you with the infinite intelligence of the universe. Each card forms an energetic bridge to help you connect with the divine guidance and ancient wisdom of spiritual retreat spaces, guardian light beings, and your own chakra energy centers through intuitive readings and dynamic spreads. On this journey you'll connect with Divine Consciousness and receive messages to raise your vibration.
Internationally renowned angel expert Kyle Gray has teamed up with visionary artist Jennifer Hawkyard to create this dynamic and unique oracle, featuring vibrant imagery, energetic activations and empowering guidance to help you to:
* experience an 'energetic upgrade'
* rebalance and reconnect with your true self
* discover the possibilities held by other realms and ethereal retreats
* find a connection to your own personal energy space
* uncover your true purpose in this world
When your intention is combined with the imagery of the cards and the empowering messages in the accompanying guidebook, divine wisdom is activated within. You were born to light up the world, let the gateways support your destiny!
  ____________________________
Keepers of the Light Oracle Cards
(Kyle Gray, Illustrator Lily Moses)

The Keepers of the Light is a congregation of Ascended Masters and divine beings that are dedicated to the peace, healing, and nurturing of the world. These amazing masters transcend religion and go beyond time – they are here and willing to help all of those who call on them.
The new Keepers of the Light oracle card deck from Kyle Gray draws together 45 Ascended Masters, spiritual deities, and beings from many world traditions, and embraces spiritual teachings from ancient to modern times.
The deck balances male and female energies, and includes traditional masters like Lord Buddha and Mother Mary, Earth-based deities like Gaia and Cernunnos, and modern favorites like Sanat Kumara, Lady Venus, and Saint Germain. Each card is beautifully hand drawn by visionary artist Lily Moses, who paints what she sees from a deep meditative state. The deck's aim is to help spiritual seekers to develop their intuition and to really start trusting the messages that spirit shares.
  ____________________________


Raise Your Vibration Oracle
(Kyle Gray, Illustrator Ari Wisner)
48-Card Deck and Guidebook

This new deck from Angel expert Kyle Gray shares vibrant, high-vibe messages based on each of the 11 chakras. Tune in to the frequency of these beautiful cards, inspired by the chakras and kundalini, and cultivate high-vibe practices to find guidance, support, and balance.
Each engaging card in this deck will bring you closer to a higher frequency and help you find inner confidence, self-trust, and purpose. With 11 themes such as 'Ignite', 'Express', 'Activate', and 'Manifest', the cards align with one of the 11 chakras and kundalini to offer you insightful guidance for any challenge, event, or question.
You'll find inspiration through the high-vibe illustrations by Ari Wisner and feel supported by each carefully curated message. Through this deck, Kyle shows you how to discover your true potential, elevate your vibration, and create an incredible life.