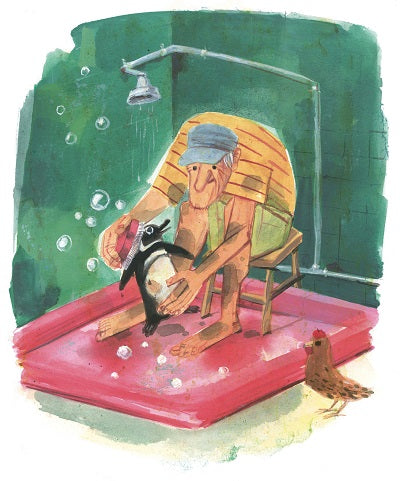 The Old Man and the Penguin: A True Story of True Friendship
$19.99
The Old Man and the Penguin: A True Story of True Friendship
(Julie Abery, Illustrator Pierre Pratt)

Told in rhyming verse, this is the touching true story of an oil-soaked penguin, the man who rescues him and an unlikely friendship.

Told in rhyming verse, this heartwarming picture book tells the true story of João Pereira de Souza of Brazil, who cared for a Magellanic penguin that had been caught in an oil spill. When João tried to release him back to the wild, the penguin returned to João's home and stayed for months. The penguin, named Dindim by João, did eventually leave, but he now returns to visit his friend for five months of every year.
A charming read-aloud showcasing a tender relationship between an animal and human, this book also promotes environmental awareness and stewardship, and explains how human activities often threaten wildlife.
Author Julie Abery includes information about João and the penguin, how wildlife is affected by oil spills every year, and what to do if you find wildlife in distress. The lively art by award-winning Pierre Pratt brings a touching sweetness and emotional depth to the story. There are character education lessons here on empathy, kindness and caring.