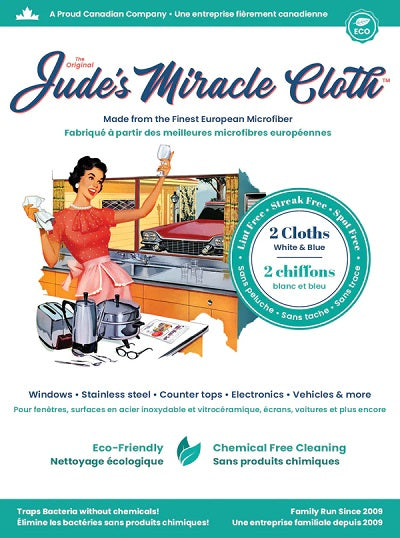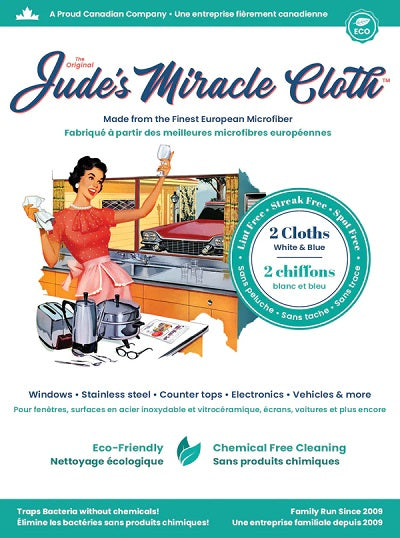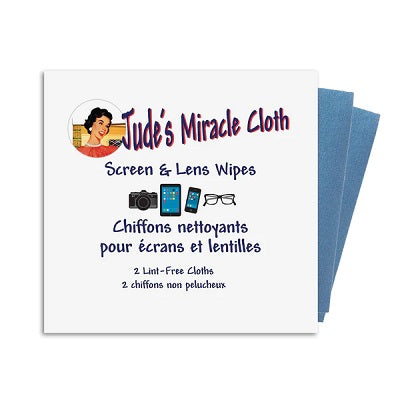 Jude's Miracle Cloth
$14.99
Jude's Miracle Cloth is made of the finest European Microfibre technology that traps 99.9% of bacteria from surfaces with water. Kiss your glass cleaner, chemicals and paper towels goodbye!

* Eco-Friendly Cleaning
* A truly chemical free option
* Washable and reusable
* Child and Pet Safe
* Streak free, spot free and lint free
* Perfect to make a personal mask; Jude's fabric filters out 96.7% of airborne particles as small as 3 microns!

_____________________________
Jude's Miracle Cloth (2 Pack)
1 Original White and 1 Blue in each package.  Just add water to lift up grime & bacteria. Wet, wring, wipe... simple. Just wash Jude's with soap when you're done.

Colour-code your cleaning cloths for specific jobs in your home.  All Jude's colours do the same job.
Screen & Lens Wipes (2 Pack)
Everyone has a cell phone or tablet! Use this cloth to clean dirt and germs off your screens and lenses. 
Will not scratch any surface! The same premium quality Jude's Miracle Cloth in a convenient size. Instantly remove greasy fingerprints and dirt from your cell phone, tablet, computer screen, eye glasses, sunglasses, camera lenses etc. Use dry or use wet for a deep clean!