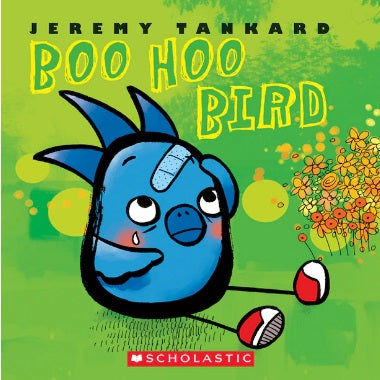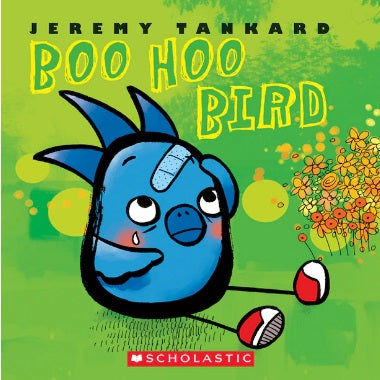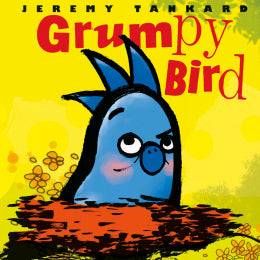 Jeremy Tankard
$9.99
Boo Hoo Bird
Bird and Raccoon are playing ball when Bird gets bonked on the head. "Boo hoo hoo!" he cries. What will make Bird feel better? A kiss? A cookie? A Band-Aid? Bird's friends Raccoon, Rabbit, Beaver, Sheep and Fox are full of sweet and funny ideas.
Perfectly pitched and hilariously imagined, this charming story about a universal experience will put a smile on the face of every child who has suffered a boo-boo and every parent who has struggled to come up with just the right way to give comfort.
******************************
Grumpy Bird
Your favourite story about waking up on the wrong side of the...nest.
Bird wakes up grumpy. Too grumpy to eat, play or even fly. "Looks like I'm walking today," says Bird grumpily. All of this grumpy walking piques the interest of his friends and soon Sheep, Rabbit, Raccoon, Beaver, and Fox are walking alongside him. Somewhere along the way Bird realizes that his friends are still there, but his mood is gone, proving that sometimes grumpy needs company!
This bright book can be read again and again to help kids (and grown-ups) giggle away their darkest moods.
******************************
Hungry Bird
Do YOU ever get 'hangry''?
Bird is hiking with his friends when his tummy rumbles. But no one packed him a snack that he likes! With every step, his hunger mounts until he collapses on the ground. How will Bird survive if he doesn't eat the perfect something this instant?!
The hilarious, blue-feathered diva who first starred in Jeremy Tankard's high-flying debut, Grumpy Bird, returns in another laugh-out-loud melodrama. For every child who has ever needed a snack right now, and for every parent who has had to cope with a 'hangry', fussy child, Hungry Bird is sure to satisfy.
******************************
Sleepy Bird
It's bedtime, but Bird wants to play! Sound familiar? I AM NOT TIRED! WHY SHOULD I GO TO SLEEP?!
Bird's friends are getting ready for bed, but Bird isn't ready to sleep. His wings want to flap. His legs want to run. All of him wants to play. "Whee!" says Bird. "It's party time!" He tries to coax his pals into joining his fun, but they are tired and want to sleep. They offer to settle Bird with their bedtime rituals — reading a book, cuddling a stuffed animal, singing a lullaby — but he just ramps UP with every suggestion.
Finally, after exhausting all possibilities and tiring himself with a signature meltdown, he collapses into slumber. . . at least for a little while.
Spirited kids and exhausted parents will laugh their way to happy dreams in this hilarious and relatable take on bedtime, which  as only the witty and warm Jeremy Tankard could create.