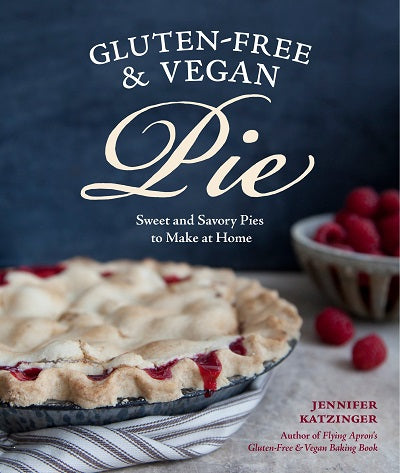 Jennifer Katzinger
$24.99
Gluten-Free & Vegan Bread: Artisanal Recipes to Make at Home
(Jennifer Katzinger, Photographer Kathryn Barnard)
Making delicious gluten-free and vegan bread has never been easier than with this cookbook from one of Seattle's most favorite bakeries; featuring over 65 recipes for breads of all kinds.

Here are 65 simple recipes for yeasted breads, fougasse, flatbreads, sweet breads, sourdough, quick breads, savory breads and sandwich breads. Each recipe in this book is made without egg, dairy, gluten, or soy and uses whole grains and alternative natural sweet


Gluten-Free & Vegan Pie: More than 50 Sweet and Savory Pies to Make at Home
(Jennifer Katzinger, Photographer Charity Burggraaf)

Dig into this delicious collection of more than 55 gluten-free and vegan pie recipes that rival in taste any "regular" pie out there. Home-baked pie, fresh from the oven, is practically an American tradition. Who doesn't love it? But baking your favorite pies without dairy, eggs, gluten, or animal products calls for a different approach to both fillings and dough.
Here you'll find techniques and tips for mixing and working with dough that doesn't contain butter or lard, and for luscious fillings that contain neither cream nor egg. With an emphasis on popular sweet pies such as banana cream pie, blueberry maple, pumpkin chiffon, and traditional apple, and with more than a dozen recipes for various kinds of pie crusts, this cookbook is a must for any pie lover, especially those with gluten-free or vegan diets.

Gluten-free & Vegan for the Whole Family: Nutritious Plant-based Meals And Snacks Everyone Will Love
(Jennifer Katzinger)
With food allergies and sensitivities continuing to rise, particularly among children, and more people embracing the health benefits of a plant-based diet, these delicious and nutritious recipes are egg-free, dairy-free, gluten-free, and mostly soy-free, and will satisfy even the pickiest eater at the table. Arranged by meals (including snacks), these 90 kid-friendly recipes will make planning easy, and simplify cooking gluten-free and vegan food for the entire family. Nutritionist Raven Bonnar-Pizzorno writes the foreword, giving the recipes her stamp of approval for both kids and adults.
****************************
Jennifer Katzinger—a highly regarded gluten-free and vegan cookbook author and founder of Seattle's Flying Apron Bakery—has spent years perfecting her recipes for gluten-free and vegan breads.