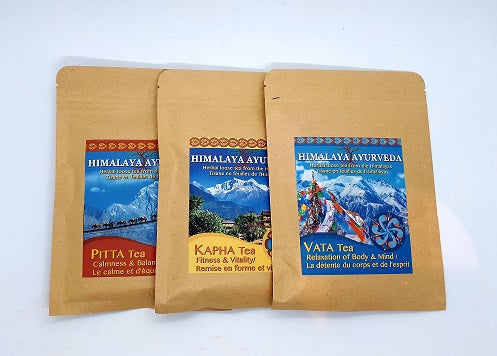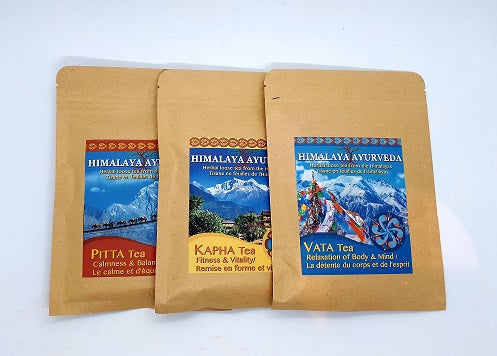 Himalaya Ayurveda Tea
$10.00
Kapha / Fitness and Vitality
Ginger helps to rejuvenate and stimulate the body. Gotu kola removes fatigue and drowsiness. It optimizes mental strength during depression. Cinnamon has a positive effect on physical freshness. Clove supports functioning of the cardiovascular system. Bahera has a positive effect on normal cholesterol level. Holy basil beneficially influences respiratory tract. Black pepper helps to release air passages.

Ingredients: ginger, gotu kola, cinnamon, clove, bahera, holy basil, black pepper, true cardamom, cumin, bindii, Chinese bayberry
Pitta / Calmness and Balance
Wild mint regulates feeling of internal body heat. Fennel enhances good digestion and excretion. Coriander positively affects gastrointestinal activity
Heart-leaved moonseed enhances optimal functioning of the liver and immune system. Indian sandalwood promotes blood purification. It favourably affects good complexion and quality of skin. It enhances emotional balance & harmonizes the nervous system. Shatavari calms down anger, irritation and stress. Gotu kola helps to maintain a balanced nervous system.

Ingredients: wild mint, Indian gooseberry, fennel, coriander, heart-leaved moonseed, shatavari, Indian sandalwood, gotu kola, malabar kino, cumin, liquorice, lemongrass
Vata / Relaxation of Body and Mind

Ashwagandha brings about mental balance.It helps to release tension and stiffness. It promotes mental relaxation and good sleep. It reduces feelings of nervousness, anxiety and fear. Valerian calms down an agitated mind. It supports general relaxation of the nervous system. Ginger promotes energy and vitality of the body. It strengthens the cardiovascular system. True cardamom is beneficial for digestion and gastric activity. Liquorice favourably affects the optimal functioning of the intestinal tract. Weight 50g
Ingredients: ashwagandha, valerian, ginger, true cardamom, liquorice, cinnamom, myrobalan, nutmeg, holy basil, lemon grass, black pepper
Bodhi / Tea-like Meditation

Sacred Lotus promotes inner peace and mental balance. Gotu kola calms down the agitated mind. It harmonises mental condition and decreases irritation and emotional agitation.
The Buddhist tradition says that the cause of human unhappiness is ignorance. In order to transform it, we have to learn how to control our desires, unenlightened mind and anger. Some aids to achieving inner harmony are: positive thinking, good will, conscious speech and action, healthy lifestyle, self-control, vigilant awareness and meditation.
Ingredients: gotu kola, sacred lotus, cinnamon bark, lemongrass, wild rose, Indian gooseberry, true cardamom
Ganesha / Morning Stimulation

True cinnamon tree stimulates the body and refreshes the mind. Gotu kola supports vigilance and concentration. It enhances mental activity and the ability of good decision-making.

Ganesha is a popular figure in Indian art. He is the Lord of wisdom and the remover of obstacles; both material and spiritual. Therefore Ganesha is worshiped before we start anything new. 

Ingredients: true cardamom, lemongrass, ginger, liquorice, true   cinnamon tree, Indian gooseberry, gotu kola