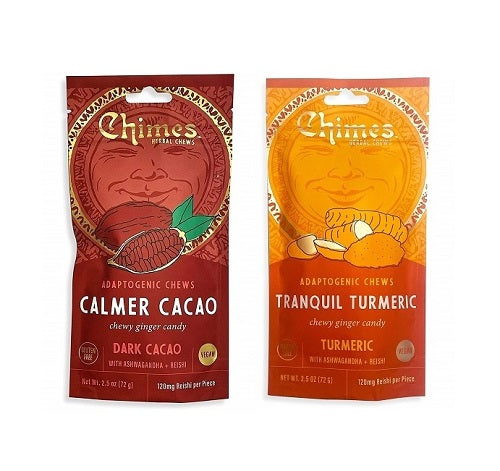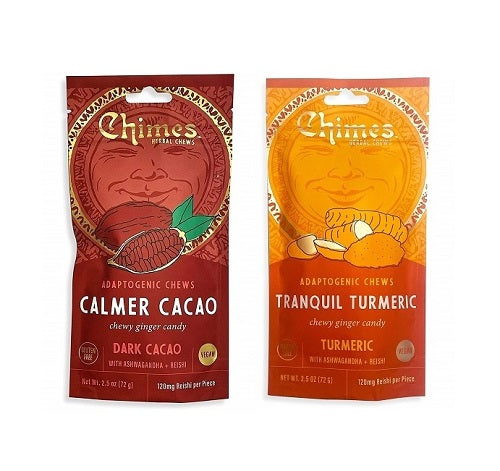 Adaptogen Ginger Chews
$6.50
Chimes combine rich flavours and healthful recipes in these adaptogen chews.  They are cooked with Ayurvedic wisdom, supporting our bodies' innate ability to adapt to life's stresses. 

* Delicious, and healthy Adaptogenic Ginger Chew Candy
* Made with real ginger from Java, Indonesia
* Simple healthy ingredients
* Non-GMO, 100% Vegan and Gluten Free
***************************
Tranquil Turmeric Adaptogen Ginger Chews Candy 

Tranquil turmeric tingles the tongue with it's mood taming zest to the rhythm of curcumin in the night!
Ingredients: Cane Sugar, Ginger,Tapioca Starch, Turmeric Rhizome, Reishi, Ashwaghanda Root
Calmer Cacao Adaptogen Ginger Chews Candy 
Calmer Cacao perfectly combines the zest of ginger with notes of chocolate that make for a dance of salubrious decadence!
Ingredients: Cane Sugar, Tapioca Starch, Ginger, Cacao Powder, Reishi, Ashwaghanda Root