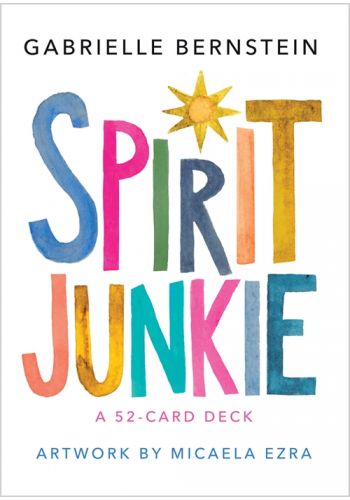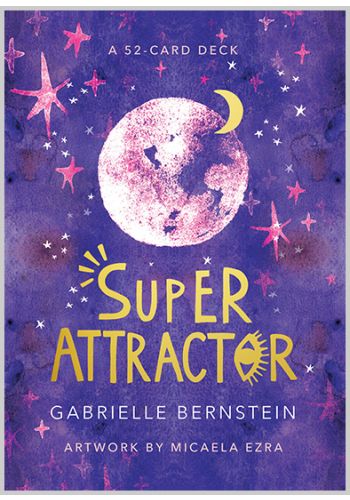 Gabrielle Bernstein
$23.99
Miracles Now
Inspirational Affirmations and Life-Changing Tools
(Gabrielle Bernstein, Illustrator Shannon Kaiser)

This fully illustrated 62-card deck is based on Gabrielle Bernstein's New York Times bestseller, Miracles Now. Each card contains a powerful, life-changing message, modernized and boiled down to a 140-character description that can be tweeted, pinned on Pinterest, posted on Facebook, or shared on Instagram with the hashtag #MiraclesNow.
"My hope is that you'll use this deck daily as a spiritual guide to help expand your miracle mind-set. When in doubt, put your hand on the deck and say, 'Thank you, divine guidance. I need a Miracle Now. Show me what you've got!' Trust in the guidance you receive and let it inform your next right action." - Gabrielle Bernstein
Spirit Junkie
(Gabrielle Bernstein, Illustrator Micaela Ezra)

52 energetically charged cards featuring beautiful watercolor illustrations and empowering messages to provide divine guidance, inspiration, and support as you strengthen your spiritual connection.
A Spirit Junkie is someone who fully embraces their unique gifts and uses them to be a force for good in the world. When we love and accept ourselves, we shine brightly-and that energy radiates outward, encouraging others to do the same.
These cards will guide and uplift you on your journey to living an inspired life. Let them support you as you release old fears and patterns, step into your power, and choose love. Each message brings you back to the truth: that you can find grace in every challenge, that miracles are available to you in every moment, and that you already have within you everything you need to shine.
When we honor our inner light, we light up the world.
Super Attractor
(Gabrielle Bernstein, Illustrator Micaela Ezra)

Being a Super Attractor means that what you believe is what you receive. This 52-card affirmations deck will inspire you to live a life filled with joy, grace, ease, and strength, and start manifesting your dreams into reality.
Each of the 52 cards, beautifully illustrated by Micaela Ezra offers an inspiring mantra to support and guide you. Anytime you want guidance, simply shuffle the deck, choose a card, and have faith in the guidance you receive.
These stunning cards will help you connect to the Universe, live in alignment with Spirit, get in the flow of wellbeing, and develop your own Super Attractor powers. Surrender to this awesome practice and watch the miracles unfold.
The Universe Has Your Back
(Gabrielle Bernstein, Illustrator Micaela Ezra)

This inspiring 52-card deck offers spiritual guidance to help you find strength when you are down, synchronicity and support when you are lost, safety in the face of uncertainty and joy in all circumstances. Now it is in your hands. Surrender to the guidance that the cards provide, practice patience and peace, and trust that the Universe has your back.