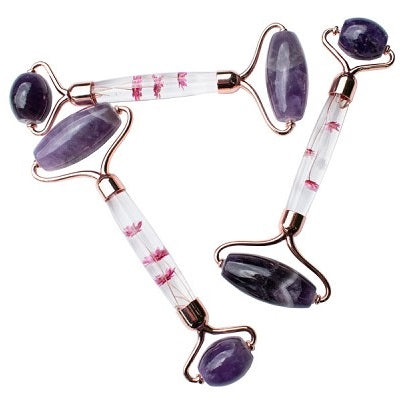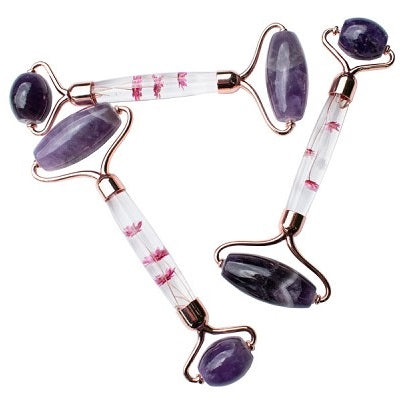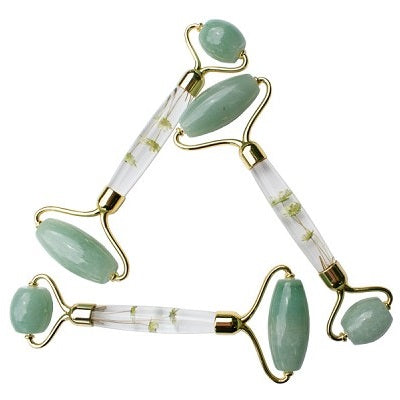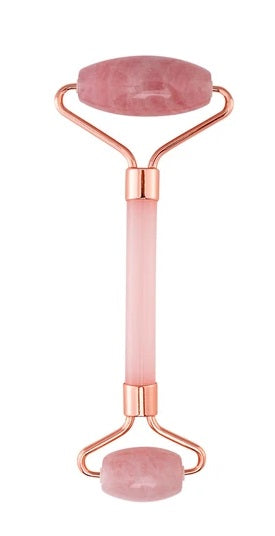 Massage Rollers
$32.00
An aesthetic and soothing double ended massage roller made from genuine stone. Handles available with or without dried flowers suspended in resin.
This perfect handheld tool is used by practitioners and spiritual healers to promote a healthy flow of energy towards areas of pain and numbness. Gemstone rollers are said to help massage out the negative forces and infuse your body with positivity.
Perfect for the face, feet, legs, arms and body. They can be used on their own or in combination with essential oils. Can also be used with massage, facial, manicure, pedicure, or reflexology treatments. Use them chilled or heated.
Benefits include:
* Increased circulation
* Reduced puffiness
* Increased lymphatic flow
* Stimulates acupuncture and reflex points on the body
* Reduced inflammation
* Personal research before use is recommended.
* This technique should not be used in the presence of certain medical conditions.
 ______________________________
Amethyst is the purple variety of quartz crystal composed of silicon dioxide with traces of iron. As a healing stone, it is said to calm the mind, dispel negativity and create a peaceful environment.

Green Aventurine is a translucent green quartz with chrome mica inclusions which is often mistaken for Jade. Green Aventurine is a popular meditation and healing stone and is said to promote tranquility, positive attitudes, health and well-being.
Rose Quartz is a member of the largest family of stones, the silica group and is composed of silicon dioxide with traces of titanium.
As a healing stone, it emits a calming energy which can work on all of the chakras to gently remove negativity and to reinstate the loving, gentle forces of self-love. The pink colour of rose quartz has been symbolic of love throughout the ages.
Lemon Serpentine, sometimes referred to as New Jade, is a hydrous magnesium silicate. It varies in colour from pale yellow to yellow-green with spots or veins of black.
This is a good stone for meditation and is said to be valuable in opening psychic abilities. It is a useful stone for healers as it helps direct healing energy to where it is needed.