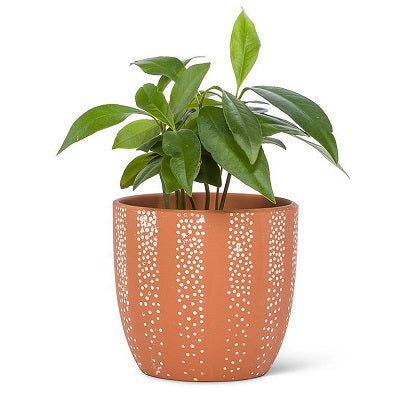 Terracotta Planters
$12.00
Dot and Dash Barrel
Add a touch of rustic style to your decor with this unique Dot and Dash planter. Crafted out of stoneware, this terracotta-coloured planter is accented with a simple dot-and-dash pattern that pays homage to Meso-American folk art — a simple yet stylish complement to any succulent, cacti or flower.
* Small: 4"H x 3"W
* Stoneware
* Note: No drainage holes

Dot Pattern
Artistry meets geometry – with stunning results – in this Small Dot Pattern Planter. Crafted out of cement, this terracotta circular planter is accented with a unique white dot pattern that creates an eye-catching striped pattern from the resulting negative space – a more sophisticated way to complement any type of decor.
* Small: 4"H x 4"W
* Cement
* Note: No drainage holes