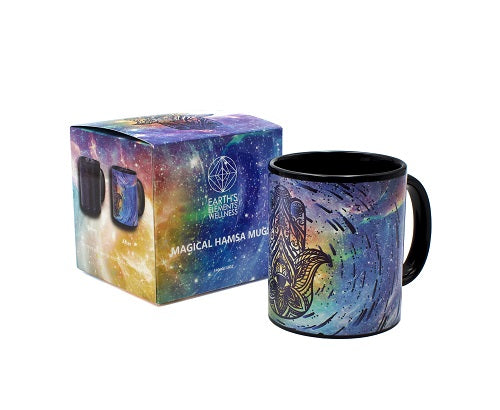 Colour Changing Mugs
$15.99
* Available in 4 designs
* This unique mug will enlighten with every sip
* Hot water will activate and change the colour of these beautiful mugs
* Handwash only
 ____________________________
7 Chakras
Chakra, in Sanskrit means "wheel" and refers to energy points in your body. There are 114 different chakras, but there are 7 main chakras that run along your spine.
Flower of Life
Flower of Life symbol is that it is believed to represent the cycle of creation. Scientifically, the Flower of Life is an expression of electromagnetic energy. It can manifest within many different waveforms or frequencies as interconnected, emanating circle patterns which can be observed in sound, matter, or electricity. 
Hamsa
The Hamsa represents protection and a reminder to pray. It is also said to bring good fortune.
Moon Phases
Tapping into the Moon's energy cycles means connecting to the energy of openness, healing, renewal, intuition and wisdom. Bring out your deepest feelings and instincts with the Magical Moon Mug.
Gift Set of 4
The entire color changing mug collection is here! This magical collection includes 4 colour changing mugs in the designs: Chakra, Flower of Life, Hamsa and Magical Moon.