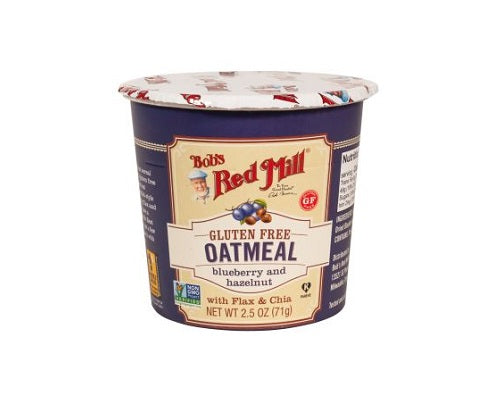 Gluten Free Oatmeal Cups
$2.99
INSTANT OATMEAL CUPS
Delicious, portable and convenient!
Just add hot water or heat it in the microwave and you're eating breakfast or a hearty snack in just three minutes. Take them with you to the office, to school, on camping trips or when you travel. Eating breakfast on the go has never been so easy!
Bob's Red Mill instant oatmeal cups are tested and confirmed gluten free in our dedicated facility and suitable for those with celiac disease or a gluten intolerance.
_________________________________
Organic Classic Oatmeal Cup
A blend of gluten free Quick Cooking Rolled Oats, Old Fashioned Rolled Oats, and Scottish Oatmeal, topped with flaxseeds and chia seeds. Take a cup of oats wherever you travel. Packed with fiber, protein and iron, this hearty organic oatmeal cup is ready in three minutes: just add hot water or pop in the microwave!
Ingredients: Gluten Free Whole Grain Oats, Chia Seed, Flaxseed, Sea Salt.
* Certified organic
* Gluten free (R5 ELISA tested)
* Simple, clean ingredients
* Whole grain oats
* Omega 3s from flax and chia seeds
* High fiber
* Soluble fiber
* 7g protein per cup
* Microwavable
* Ready in 3 minutes
Apple Cinnamon Oatmeal Cup
The Apple Pieces and Cinnamon cup contains a special blend of our favorite gluten free oats, seeds, dried fruit and spices.
* Real dried apple pieces
* Gluten free
* Ready in 3 minutes
* 7g protein, 8g fibre
* Good source of iron
* Perfect for breakfast or a nourishing snack
Ingredients: Gluten Free Whole Grain Oats, Cane Sugar, Dried Apple, Chia Seed Flaxseed, Sea Salt, Cinnamon.
Manufactured in a facility that also uses tree nuts and soy.
Blueberry and Hazelnut Oatmeal Cup
Local Oregon hazelnuts and dried blueberries make this a delicious and wholesome breakfast that can go wherever your next adventure awaits.
Ingredients: Gluten Free Whole Grain Oats, Cane Sugar, Hazelnuts, Dried Blueberries, Chia Seed, Flaxseed, Blueberry Powder, Sea Salt.
* Real dried blueberries
* Gluten free
* Ready in 3 minutes
* 7g protein, 8g fibre