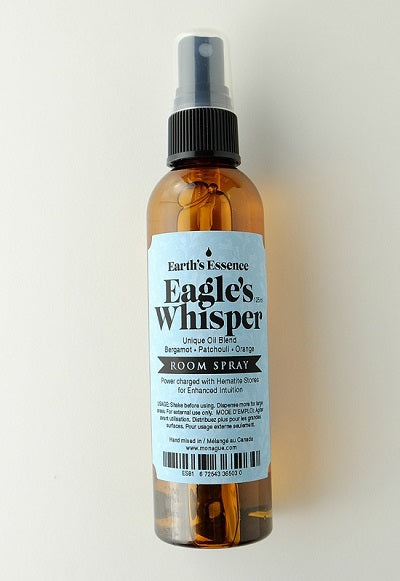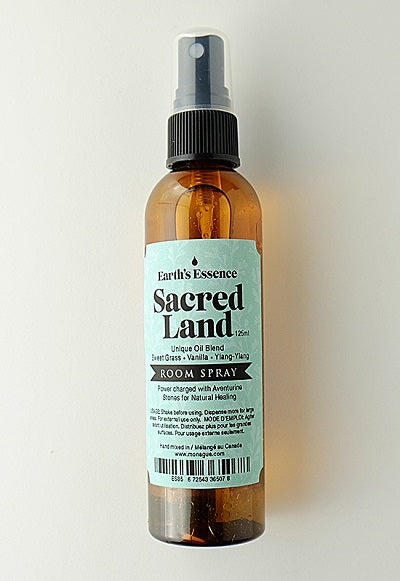 Earth's Essence Room Sprays
$24.95
Monague Native Crafts is a 100% Native Owned company, and their products are handcrafted in the Fraser Valley region of British Columbia. The company gives hiring priority to First Nations People and Women in Development.

______________________________
Earth's Essence Wholistic Oil Room Spray
Each (125ml) bottle is super charged with semi-precious stones to enhance positive energies in your home.
Cedar
• Enhanced with clear quartz semi-precious stones.
Eagle's Whisper
• Bergamot/Patchouli/Orange oil blend
• Enhanced with hematite stones for enhanced intuition
Nature's Breath
• Peppermint/Rosemary/Lavender oil blend
• Enhanced with Amethyst for balance and positivity
Ojibway Sun
• Sweet Orange/Vanilla/Lemon Grass oil blend
• Enhanced with Tiger's Eye for inner balance
Sacred Land
• Sweet Grass/Vanilla/Ylang-ylang oil blend
• Enhanced with Aventurine for natural healing
Sweet Dreams
• Sandalwood/Amber/Ylang-ylang oil blend
• Enhanced with Rose Quartz for calm and tranquility