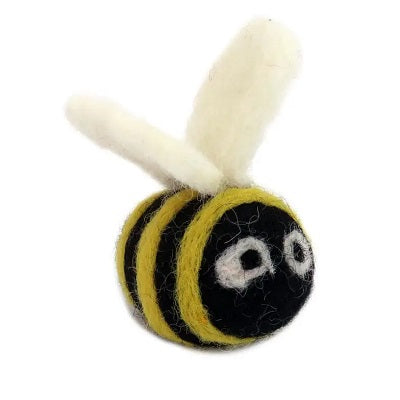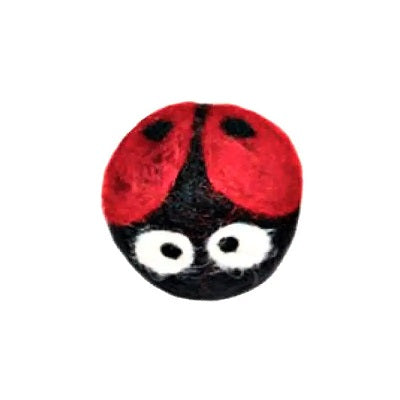 Eco Toys and Fresheners
$6.99
All Friendsheep Eco Toys can be used as pet toys or fresheners when essential oils are added to them. Great to scent your dry laundry, your drawers, closet, a duffle bag or a car! All handmade in Nepal from 100% wool, organic and cruelty free certified, coloured with eco-friendly azo-free dyes. Compostable at the end of their life.

Eco Pet Toys
Fun to bat and chase around!
DO NOT USE essential oils if the toy is to be used by a pet
* Berta Honey Bee: 2"x1.5"
* Gina the Ladybug: 1.5"
* Frank the Reed Fish: 3" x 2"
* Mushrooms: 2.5" x 1.5" x 2.5"
* Rainbowland Balls: 3"
* Sporty: 2" x 2"


Eco Fresheners
Reusable, they will last forever!

Just like you replaced your dryer sheets with our Eco Dryer Balls, you can now get rid of scented drawer sheets and replace them with our new Eco Fresheners. They are hand made with 100% sustainable New Zealand wool and can be scented with essential oils.
Just add 2-3 drops of your essential oils and toss them in drawers and closets to enjoy fresh, fragrant clothes every day. Or showcase them in a vase or a catch-all dish, decorate a table, put them in your pocket, your bag or use them in your car to enjoy some aromatherapy on the go.
______________________________
About Friendsheep
Friendsheep products are handmade for fair wages by underprivileged women and disabled people in Kathmandu, Nepal. We provide ethical working conditions, medical care, education and purpose to empower people while respecting animals and nature.
Our wool products are made of organic, cruelty-free certified wool, using eco-friendly azo-free dyes. They're needle felted using only vegetable soap and warm water and then sun-dried. All organic cotton bags are hand made and hand printed. Our products are reusable, plastic free, and compostable at the end of their life.
We ship completely plastic-free and offset every shipment through our Carbonfund.org partnership.
We're Eden Reforestation Projects partners and we plant a tree for every item sold.
We are 1% For the Planet members, and donate approximately 20% of all net proceeds to rescues, ocean conservation and environmental nonprofits.