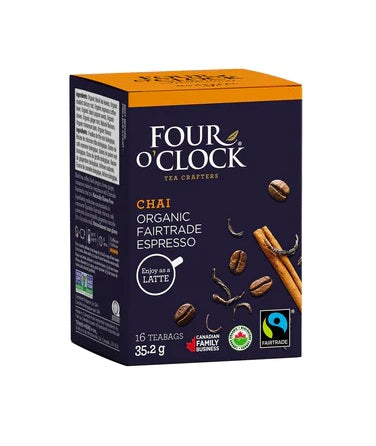 Four O'Clock Organic Teas
$6.75
 Fairtrade

*

Organic

*

Non GMO

Canadian Family Business
 __________________________________
Chai Latte Expresso
(Black,16 teabags)
Coffee and tea combo to create a boundary-breaking beverage that's the best of both worlds! Indian black tea, espresso, and spices come together in a latte that would make even the most experienced baristas envious.
Ingredients: Organic Black Tea Leaves, Organic Roasted Chicory Root, Organic Espresso Coffee Bean, Organic Black Pepper Seeds, Organic Cloves, Organic Ginger Root, Natural Flavours, Organic Cinnamon Bark, Organic Flavour. Black Tea, Coffee, Black Pepper, Cloves, Ginger,

Cinnamon: Traded in Compliance with Fairtrade Standards, Total 72%.
Japanese Sencha
(Green,16 teabags)
Yearning for something new? Try our 100% Japanese Sencha Matcha. With its deep emerald colour and delicate herbaceous hints, this organic tea balances taste, beauty and health.
Ingredients: Organic Japanese Sencha Matcha Green Tea Leaves.
Rooibos
(Herbal,16 teabags)
Grown on a cooperative in South Africa, our rooibos appeals to both heart and mind. In addition to offering woody notes and hints of vanilla, this classic supports a small community.
Ingredients: Organic Rooibos Leaves.
Rooibos: traded in compliance with Fairtrade Standards, total 100%.