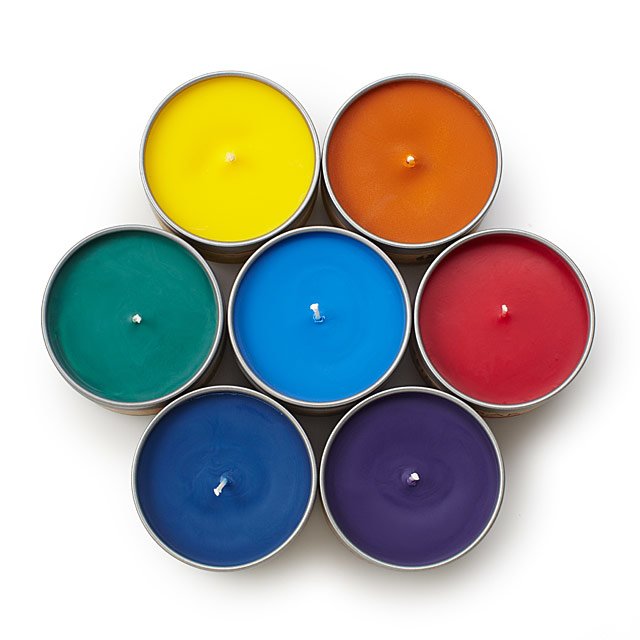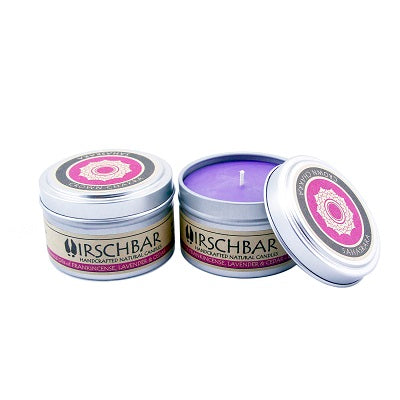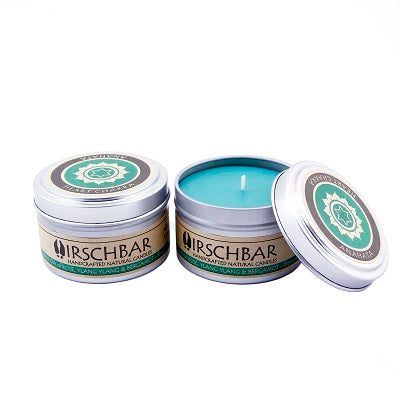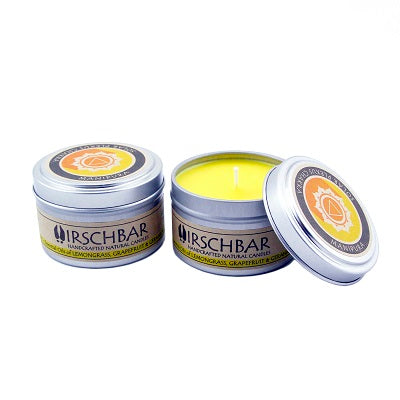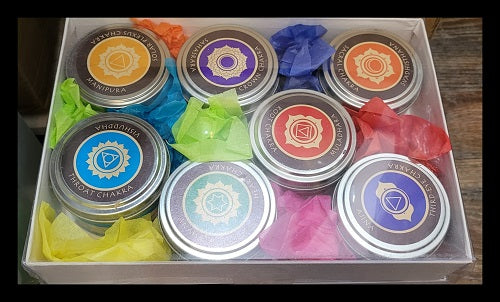 Chakra Candles
$14.00
Chakra candles are wish-fulfilling companions which convey and promote positive life intentions and affirmations. Light candles to boost your energy and enthusiasm for what you need to accomplish while enhancing your emotional and physical well-being.

Perfect for your yoga room, meditation hour, home, cottage, or on the go, this soy tin chakra candle packs a big punch, burning for over 30 hours with the sensual, warm scents of pure essential oils. Ideal anyplace, anytime!
* Candle Size: 3 x 3 x 2"
* Burn Time: Approx. 30 hours
* Our wicks contain absolutely no lead or other metals
* 100% pure essential oils
* Handmade in USA
_____________________________
Crown (Sahasrara) This chakra is associated with Divine Energy and Self Realization. Through meditation and prayer we surrender to the higher power. We experience whole body happiness.
Element: Thought
Wisdom, Knowledge and Divinity
Affirmation "I KNOW: I listen, trust and honor the divine in me"

Essential Oils: Frankincense, Lavender, Cedarwood
Third Eye (Ajna) The chakra of the third eye, the center of psychic power and higher intuition. Your true self will attract unlimited resources, power, and compassion to realize your destiny.
Element: Light
Intention, Perception and Imagination
Affirmation "I SEE: I am intuitive and connected with my inner guide"
Essential Oils: Juniper, Rosemary and Pine

Throat (Visuddha) The throat chakra is the center of communication. You will be drawn to meet new and wonderful people and embrace experiences that will encourage your spiritual growth.
Element: Ether
Communication, Self-Expressions and Creativity
Affirmation "I SPEAK: I express myself creatively and with ease"
Essential Oils: Eucalyptus, Lavender, Sage

Heart (Anahata) The heart chakra is the center of compassion and love. When you are hurt in life or love, the first impulse is to close your heart. You must release your pain and love again.
Element: Air
Balance, Love and Compassion
Affirmation "I LOVE: I deeply and completely love and accept myself"
Essential Oils: Rose, Lavender, Bergamot

Solar Plexus (Manipura) This chakra holds the "Chi" or life force or personal power, shielding negative influences. It leads to your own unique gift in work, art and service, bringing harmony to your life.
Element: Fire
Will, Strength and Purpose
Affirmation "I DO: I am strong, authentic and courageous"
Essential Oils: Lemongrass, Grapefruit, Geranium

Sacral (Svadhishthana) This chakra is about sensuality, emotions, and intuition. It gives the ability to relate to others in an open and friendly way, moving to a fulfilling emotional and sexual life.
Element: Water
Pleasure, Sense of Self,  Intimacy
Affirmation "I FEEL:I am a sensual and joyful being"
Essential Oils: Sandalwood, Orange, Jasmine

Root (Muladhara) When you are trying to make things happen in the material world, in relation to business or material possessions, the energy to succeed will come from this chakra.
Element: Earth
Security, Instinct and Grounding
Affirmation "I AM: I am safe and connected to my body"
Essential Oils: Patchouli, Vetiver, Cedarwood