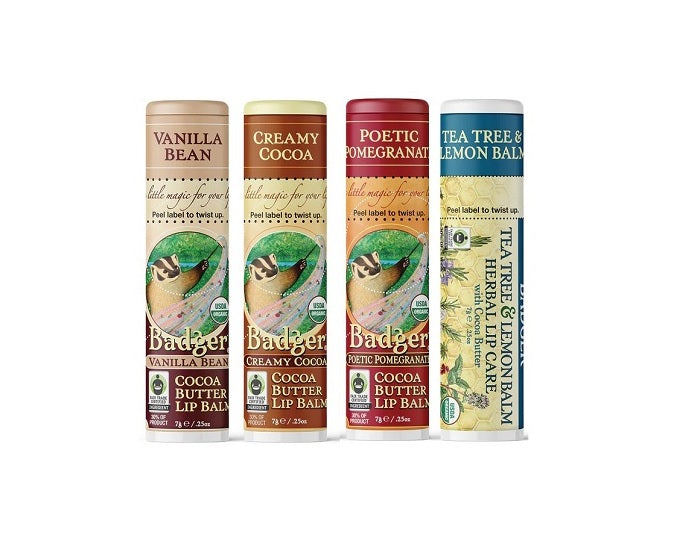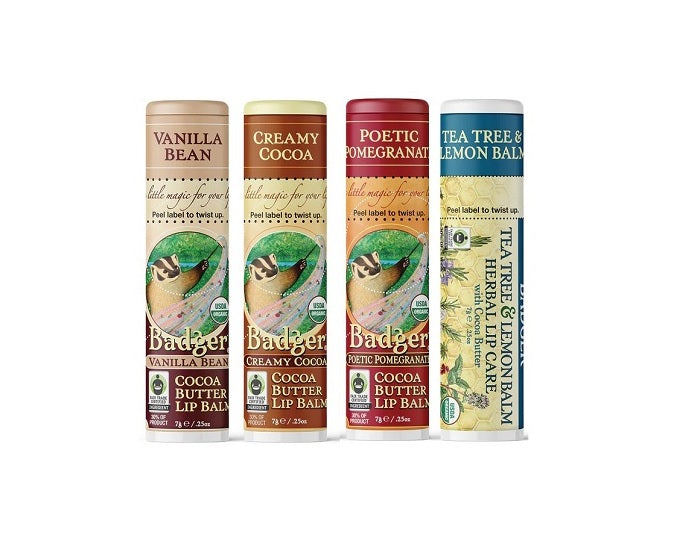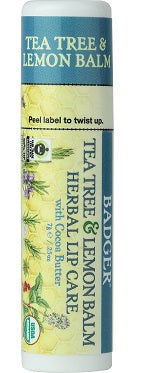 Organic Cocoa Butter Lip Balm
$6.99
Soothing organic protection for your dry lips! Badger Cocoa Butter Lip Balms are dreamy, creamy, smooth; with the subtle aroma of dark chocolate.

* Packed with antioxidants for healthy, smiling lips
* Longer-lasting, larger-sized stick
* Made with organic and Fair Trade Certified™ cocoa butter
* Sustainably sourced ingredients
* Free from harsh or artificial fragrances and dyes
* Free from parabens, petrolatum, GMOs and synthetics
* Leaping Bunny Certified, Cruelty-free
* Certified Organic and Fair Trade

______________________________
Creamy Cocoa has just cocoa butter, extra virgin olive oil, beeswax, aloe vera and antioxidants, and retains the subtle, natural scent of dark chocolate. Simple.

Poetic Pomegranate is unlike other pomegranate flavours out there, in that it's neither artificial nor overly sweet. Instead, it's packed with powerful antioxidants from real Pomegranate CO2 extract and has just a hint of citrus.
Tea Tree & Lemon Balm delivers herbal support with a dose of peppermint and menthol crystals that cool and refresh with a tingle, like winter's frosty air.
Vanilla Bean tastes sweet and exotic, like a scrumptious confection for your lips. CO2 extracts of pure Madagascar vanilla is blended with cocoa butter for a flavour that vanilla lovers will find irresistible!