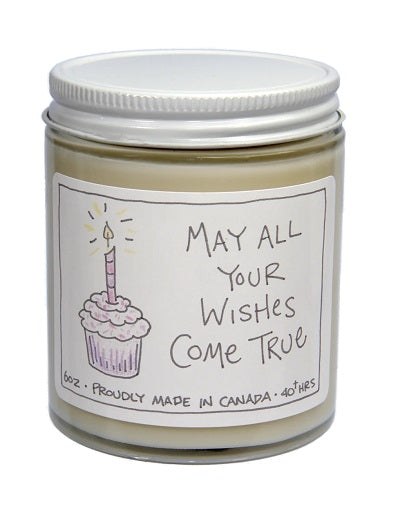 "Anything for You" Scented Soy Candle
$11.00
Serendipity Candles are proudly made in Canada, and a good choice for your home and the environment.

* Premium clean burning all-natural soy wax
* Hand poured in Collingwood, Ontario
* Cruelty-free, non-GMO, vegan, kosher, irritant-free
* Burn Time: 30+hr burn time (6oz)

Ingredients: Premium Soy Wax. Scents created with a blend of Essential Oils and paraben and phosphate-free fragrances, 100% Cotton wick

Tips: Burn for up to 2 hours at a time. Before lighting, trim wick (0.6cm).
_____________________________
* Best Teas: Earl Grey and Apple

* Do What You Love, Love What You Do: Vanilla Mint
* Everyone Has A Reason to Smile: Fresh blend of Lilies and Lilac

* Fill Your Life With Great Friends/ Great Wine: Chardonnay and Merlot
* Getting Lit This Weekend: Patchouli and Cannabis
* Love is Love: A special blend of Pear, Banana and Mango
* May All Your Wishes Come True: Chocolate, Buttered Rum and Buttertart

* My Heart Melts for You: Chocolate and Apple
* Have a Scentsational Birthday: Strawberry Shortcake
* Thanks a Latte: Coffee, Vanilla and Creamy Chai
* You are a Ray of Sunshine: Coconut and Lime