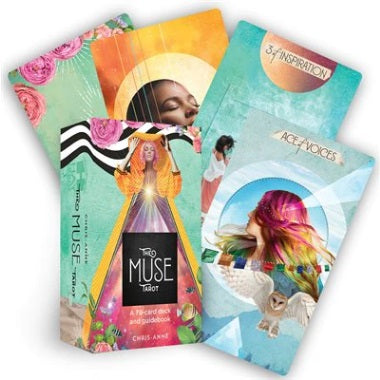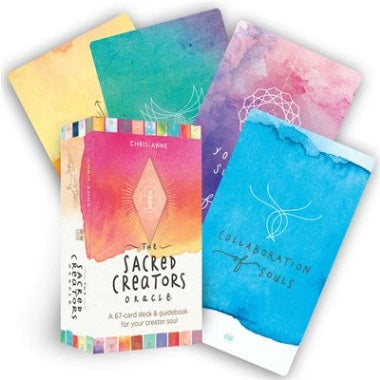 Chris-Anne
$33.99
The Light Seer's Tarot

This 78-card tarot deck and guidebook is a healing tool and guide to explore both the light and shadow sides of our nature.
By re-imagining the traditional tarot archetypes and symbols in a contemporary, boho, and intuitive style, The Light Seer's Tarot expresses the light and shadow sides of our natures and explores the lessons that can be learned from both.
The expressive characters who live within the landscapes of the cards tell stories, ask questions, and provide guidance. This deck is an ideal companion as you seek to uncover the places in your life-and in yourself-that are most in need of illumination.
The Muse Tarot
Expect magic, exploration, and inspiration.
Infused with a wildly eclectic spirit, The Muse Tarot will illuminate your path towards inspiration and magic with its bright symbolism and powerful Muse energy. The suits are recast as Emotions (Cups), Inspiration (Wands), Voices (Swords), and Materials (Pentacles) to deliver messages from the source of creation. The detailed guidebook contains card meanings, poetry, and word prompts to offer insight into your readings while stoking the sparks of your creativity. Ignite the Muse within!
Scared Creators Oracle
Bring intuition, magic, and expansive potential into your life and your business with this 67-card oracle deck that will help you plan your soul journey toward your big dream.
WHAT'S YOUR SOUL CREATING?
A guide for dream-chasers and magic-makers seeking serendipity, magic, intuition, and expansive potential in everyday life-or in business!
Make your big sacred dream a reality with this completely revised and updated Hay House edition of The Sacred Creators Oracle. The messages you receive will guide you to take inspired action in your purpose-filled life as you map your soul''s journey or plan your next creative project. The extra journal prompts for each card are a fun, simple way to rethink the challenges you encounter and inspire magic so your creator spirit will thrive.