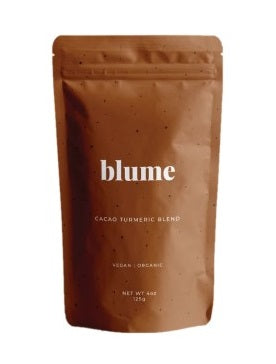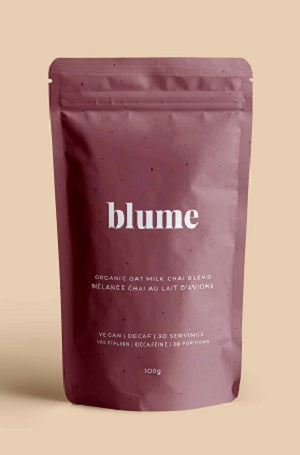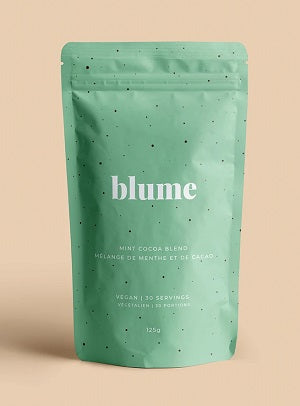 Blume Blends
$25.00
Blume Milk Frother!
Dreamy foam from the comfort of home. Blume's custom milk frother has three speeds and includes two detachable whisk heads and a USB charging cable. Works with any type of milk, hot or cold.


Beetroot Blend (25-30 servings)
Our pretty pink latte is formulated to boost energy and help you repair naturally. Beets are rich in nitrates while supporting after-workout recovery and heart health. Add to your favourite milk, smoothies or oatmeal for a superfood boost. No fillers or added sugars means a little goes a long way!
Organic Ingredients: Beetroot powder, cinnamon, ginger and cloves.
Vegan * Caffeine Free * Sugar Free * Organic
Blue Lavender Blend (20-30 servings)
Lavender, coconut milk, and blue spirulina make this blend balanced, calming and smooth. Formulated to soothe inflammation and settle restlessness. Take a sip, turn your brain off and just do nothing.
Organic Ingredients: Coconut milk powder (coconut milk, rice maltodextrin), coconut sugar, ground lavender and blue spirulina.
Vegan * Caffeine Free * Organic


Chili Turmeric (25-35 servings)
Now we're talking turmeric. If you're looking for that extra hit of heat, then this is the blend for you. Soothe your body and mind with the healing powers of turmeric and then shake things up with a kick of chili. Aromatic, warming and bright. Think Chai with a spicy twist, steams up vibrant yellow.
Organic Ingredients: Turmeric, Cinnamon, Ginger, Cardamom, Cayenne Pepper and Black Pepper.
Vegan * Caffeine Free * Organic * Sugar Free

Cocoa Turmeric Blend (25-35 servings)
There's a reason we call this blend 'Moon Mylk.' Destress, unwind and head straight to relaxation island. Turmeric soothes your body, and ashwagandha calms your mind.  Formulated to reduce stress, give your skin a natural glow and ease digestion. Finally, a satisfying hot chocolate with benefits. Sip sip and zen on.
Organic Ingredients: Cacao, turmeric, cinnamon, ginger, nutmeg, black pepper and ashwagandha.
Vegan * Caffeine Free * Sugar Free  * Organic
Matcha Coconut Blend (20-30 servings)
Perk up and stay steady with our stone ground, hand picked matcha. Organically grown and sourced from the Nishio region of Japan, this blend is what you need to get a move on the day. 

Organic Ingredients:  Matcha, coconut milk powder and moringa.
Vegan * Sugar Free  * Organic

Mint Cocoa Blend (20-30 servings) ** LIMITED EDITION **

A fresh and minty hot cocoa made with real peppermint, spearmint, and maca. This aromatic blend is rich and smooth, tasting like your favorite chocolate bar, with a satisfying minty finish.
Organic Ingredients:  Organic Cocoa Powder, Organic Peppermint Powder, Organic Cacao Powder, Organic Coconut Sugar, Organic Maca Powder, Organic Spearmint Powder.

Oatmilk Chai Blend (20-30 servings)
A warm cup of Chai, but make it decaf and hold the syrup. This blend of superfood spices is rich, bold, and oh-so-familiar, with a dreamy touch of oat. Sourced from co-operative organic farms in India, this blend works hot, cold, blended with coffee or in a smoothie, any time of day.

Ingredients: Organic Black Decaf Tea Extract, Organic Oat Milk Powder, Organic Ginger Root Powder, Organic Cinnamon Powder, Organic Cardamom Powder, Organic Black Pepper Powder, Organic Ground Cloves, Organic Nutmeg Powder, Organic Fennel Powder, Organic Milk Thistle Powder.
Vegan * Decaf * Refined sugar-free * Gluten-free * Organic.
Reishi Hot Cacao Blend (20-30 servings)
Creamy, chocolatey goodness. Meet our guilt-free hot chocolate made with reishi and cacao. Support your immune system and fight off the blues with this mystic mushroom hot chocolate. Cacao supports the production of anandamide AKA "the bliss molecule", take a sip and find out why.

Organic Ingredients: Cacao powder, coconut sugar, cocoa powder, reishi mushroom powder and cinnamon powder.
Vegan  * Caffeine Free  * Organic 

Rose London Fog (30 servings)
A functional London Fog, without the syrup and caffeine.
Stop and smell the roses with our superfood-infused take on an old fave. Our London Fog is floral, calming and softly sweet. We use micro-ground rose petals, rose-hips and tart cherry to make this blend rich in vitamins and skin boosting goodness. Rose has been used for centuries to ease symptoms of PMS and bloating.  Sip and glow on.
Ingredients: Organic Rose Petal Powder, Organic Decaf Black Tea Powder, Organic Bergamot Flavour, Organic Rosehips Powder, Organic Vanilla Flavour, Organic Tart Cherry Powder.
Vegan * Caffeine Free * Sugar Free  * Organic

Salted Caramel Blend (30 servings)
She's salty, she's rich, she's a classic with a twist. Perfectly pairing each salty sip with mesquite and dates, Mother Nature's natural sweeteners, this blend is everything your sweet and sultry dreams are made of. With superfoods maca and schisandra, take a sip and enjoy all of life's pleasures.
Our newest blend to the list of caffeine-optional latte blends – this one pairs well with a shot of espresso if that's your style.
Ingredients: Mesquite powder*, Date powder*, Dandelion root powder*, Oat milk powder*, Pink Himalayan salt, Natural flavour*, Maca powder*, Carob powder*, Schisandra berry powder*. *Organic
Turmeric Blend (30 servings)
We call this one Golden Mylk. The perfect mix of super-spices to get your body feeling fine.  Help ease achy joints, give your skin a glowing boost, and support your immune system with this blend of super-spices.
Ingredients: Turmeric Root Powder*, Cinnamon Powder*, Ginger Root Powder*, Cardamom Powder*, and Black Pepper Powder*. *Organic
Delicious!
I really like this blend and it's so easy to make my lattes