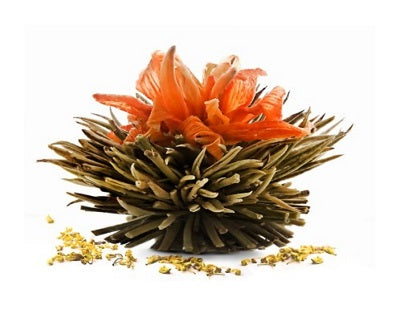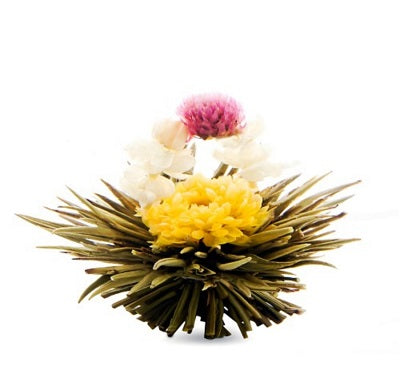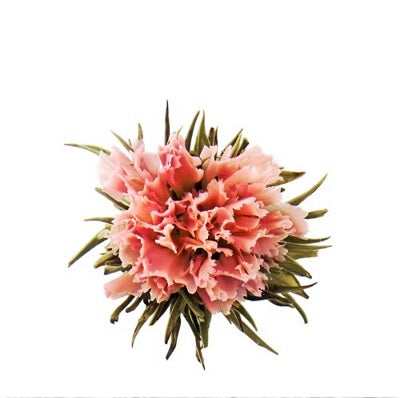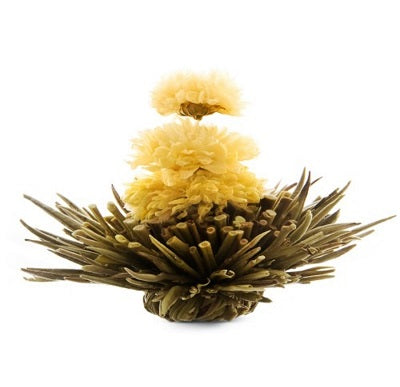 Blooming Flower Tea
$3.50
What are Blooming Teas?
Green or black tea leaves are combined with dried flowers, chosen for their individual health benefits and then hand wrapped into a bulb or heart shape. These flowering teas originated in China's Yunnan province but are now known worldwide for their beauty, flavour and health benefits.
How do you brew the tea?
Place the tea ball in a teapot, pour hot water 3-4 inches above it to allow the flower to fully bloom. As the bulb absorbs the water, watch the tea bloom unfurl into a beautiful flower bouquet. Stir tea gently to even flavour before drinking. The best steeping temperature should be just below boiling point (95ºC).
Benefits!
The blooming tea is aesthetically pleasing, tastes great and contains healthy antioxidants, flavonoids and catechins. Flower tea can be reused, so don't throw it away after a single brewing. It can be re-steeped at least two more times. 😊
 ______________________________
Love Bloom
A master piece of hancrafted blooming tea. Enjoy a gathering of fresh springtime green tea with lily and jasmine in one heart shaped tea. Let the heart sink within your teapot and attend the spectacle Love has prepared for you.
Capricorn Ambitious, organized, practical, goal-oriented and responsible
(December 22- January 19)
Charming Lover Ingredients: Jasmine green tea, globe amaranth and jasmine flowers
Aquarius Progressive, independent, intelligent, unique and idealistic
(January 20- February 18)
The Incredible Ingredients: Jasmine green tea, lily and osmanthus flowers
Pisces Artistic, compassion, introspective, empathetic and generous
(February 19- March 20)
Wild Lover Ingredients: Jasmine green tea, chrysanthemum, globe amaranth and jasmine flowers
Aries Competitive, passionate, motivated, confident and determined
(March 21-April 19)
Fairy of Jasmine Ingredients: Jasmine green tea, chrysanthemum, globe amaranth and jasmine flowers
Taurus Intelligent, dependable, hardworking, patience, practical and stubborn
(April 20- May 20)
Tea Basket Ingredients: Jasmine green tea, lily and jasmine flowers

Gemini  Adaptable, outgoing, intelligent, congenial, curious, expressive
(May 21-June 21)
The Surprise Party Ingredients: Jasmine green tea and marigold flowers
Cancer
  Loyal, protective, intuitive, caring, sensitive, sympathetic
(June 22- July 22)
Precious Blossom Ingredients: Jasmine green tea and carnation flowers
Leo Warm, passionate, dynamic, optimistic, creative, generous and charismatic
(July 23- August 22)
Blissful Mind Ingredients: Jasmine green tea, chrysanthemum and globe amaranth flowers
Virgo Practical, sensible, loyal, studious and meticulous
(August 23- September 22)
Tea Paradise Ingredients: Jasmine green tea and chrysanthemum flowers
Libra Diplomatic, cooperative, idealistic, social, clever, sensitive and persuasive.
(September 23- October 22)
Oriental Beauty Ingredients: Jasmine green tea, chrysanthemum and jasmine flowers
Scorpio Brave, loyal, honest, ambitious, emotional, intuitive and obstinate
(October 23- November 21)
Serenity Ingredients: Jasmine green tea and lily flowers
Sagittarius Optimistic, independent, humorous, generous, honest and intellectual.
(November 22- December 21)
 Angel of Lotus Ingredients: Jasmine green tea, globe amaranth and jasmine flowers