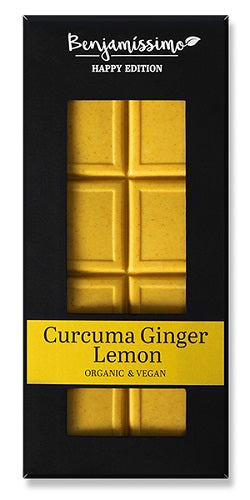 Benjamissimo Chocolate
$5.99
Benjamissimo's mission is to carefully source their ingredients and support the cacao farmers they work with. The high quality and fair trade cacao beans are from small family run farms in Latin America, Nicaragua, Colombia, Ecuador and the Dominican Republic. With added superfoods these are irresistible healthy treats for body, mind and soul.
* Made in Bulgaria
* Certified Organic, Vegan and Kosher
* Free of Gluten, Soy and Palm
* High-quality ingredients used 
______________________________
Blue Spirulina
Ingredients: Organic vegan cacao bar with blue spirulina extract and sea salt.
Curcuma Ginger Lemon
Ingredients: Organic vegan cacao bar with curcuma, ginger and lemon oil.