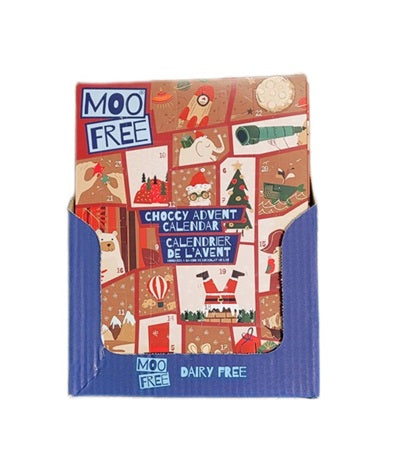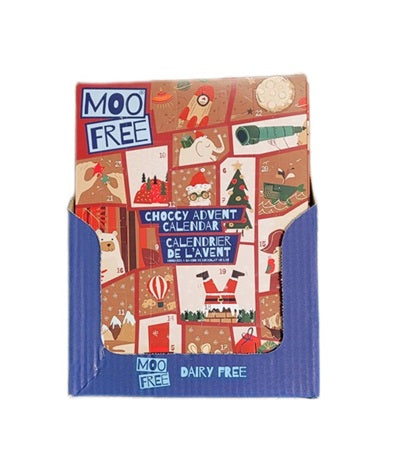 Vegan and Organic Advent Calendar
$12.99
sMake December a merry month filled with vegan chocolate surprises everyday! This fab chocolate advent calendar by Moo Free features their signature sweet chocolate in adorable shapes, to bring that holiday cheer to you each day leading up to the big day!
* Certified Organic
* Dairy Free
* Gluten Free
* Soya Free
* No Palm Oil
* Non GMO
* VEGAN

Ingredients: Organic cocoa [45%] (organic cocoa butter, single origin organic cocoa mass), Organic Raw Cane Sugar, Organic Rice Powder (organic dried rice syrup, organic rice starch, organic rice flour), Emulsifier (organic sunflower lecithin)
______________________________
The dairy free and organic chocolate in these Advent Calendars are made using high-quality, ethically sourced, ingredients including the finest, single origin organic cocoa from plantations in the Dominican Republic. We then combine this with unrefined organic cane sugar and organic rice powder to produce velvety smooth, milk chocolate flavour that just melts in the mouth.
Each chocolate Advent Calendar is made in our UK factories that do not manufacture Chocolate and Sweet milk chocolate or any other milk, gluten or soya based products. As with all of our dairy free chocolates our organic chocolate Advent Calendars are made using a combination of natural, organic and ethically sourced ingredients, resulting in a clean label, 5 ingredient chocolate.